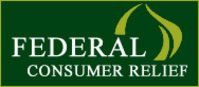 Federal Consumer Relief settled my debts for 37% of the outstanding balance. In my opinion Federal Consumer Relief is an extremely effective option for individuals in financial hardship." - Melissa N.
Riverside, CA (PRWEB) April 13, 2010
When consumers are searching for legitimate debt relief Company, it is most important that they search for a company that is both reputable and hassle free in the debt industry. A company can only be trustworthy if their financial representatives are there to suggest you the best option for debt management.
Federal Consumer Relief is one of the country's largest and most reliable debt management companies. As a member of USOBA (United States Organization for Bankruptcy Alternatives) and IAPDA (International Association of Professional Debt Arbitrators) they are always in the service of consumers to provide professional debt help.
Federal Consumer Relief's negotiation process is proven as the most successful process for debt management as it has been developed and maintained by the panel of financial experts. They have strong relations with different financial institutions and creditors, through which they effectively carry out customer's debt relief process with extensive discount.
Federal Consumer Relief is one of the most reputable debt companies which provides money back guarantee. They provide hassle free consultation by conducting a comprehensive analysis of consumer's debt situation. Their ultimate goal is for their customers to decide which option will work effectively to handle their financial needs.
Federal Consumer Relief provide different debt relief options i.e. debt consolidation, debt settlement, credit counseling and minimum payments of credit card debt. A debt management program enables the company to open the negotiation process with the creditors and other financial institutions on behalf of their customer. It helps out the customer to payback a discounted amount of the total debt. In some cases, creditors settle the debt on a reduced lump sum payment. "Federal Consumer Relief's vision is to provide the highest quality service by making the path of debt free life as stress free and easy and simple." Said Business Development Manager – FCR.
To find the suitable debt relief option please visit Federal Consumer Relief website http://federaldebtreliefs.com or call now for a free consultation with an IAPDA Certified Debt Specialist at 1-800-679-9755.
###