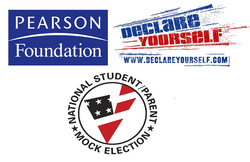 Chicago (PRWEB) April 13, 2010
As a city that is renowned for playing a pivotal role in this country's history -- past and present --, Chicago is being honored with a rare chance to view one of the few remaining copies of the original Declaration of Independence. Starting with a kick-off preview at Curie Metro High School, the document will be in town for two days this week with a full day of free public viewing for the community on Saturday, April 17 at North Grand High School.
Curie High School students were selected for this special visit in honor of their high level of participation in the National Student/Parent Mock Election during the past presidential election. The other Illinois schools that will be honored at the ceremony for their exemplary involvement are: Albany Park Community Center, Sutherland School, Rolling Meadows High School, Jefferson Middle School (Champaign), Steinmetz Academic Center, Freeport High School, East Alton-Wood River High School and Roxana Senior High School,
One of only 26 known prints still in existence out of 200 printed on July 4, 1776, this rare document remains the only touring print of the Declaration of Independence. Rediscovered in 1989 by a flea market shopper, this print was purchased in 2000 by Hollywood producer and philanthropist Norman Lear for $8.1 million. Now, Lear and his wife Lyn work to ensure that "the people's document" remains accessible to the people.
The Pearson Foundation, the philanthropic arm of Pearson, the educational services and technology company, is sponsoring this national tour of the Declaration of Independence, which is also supported by the National Mock Student/Parent Election and Declare Yourself.
Invitation-Only Preview at Curie Metro High School
Media welcome!
WHAT: Rare Viewing of Original Print of the Declaration of Independence
Curie High School students will get a preview of this rare piece of history in recognition of their stellar participation in the National Student/Parent Mock Election during the 2008 presidential campaign.
WHERE: Curie Metro High School Auditorium, 4959 S. Archer, Chicago
WHEN: Friday, April 16, 10:30-11:30 am
Special early morning previews/interviews for media available
WHO: In addition to presentations by numerous local dignitaries, Chicago Public School teachers will be honored with the first Pearson Independence Awards, recognizing leadership in social studies education.
Free Public Exhibit
WHAT: Public Exhibit of the Declaration of Independence
Chicagoland residents are invited to take advantage of this once-in-a-life time opportunity to see an original print of the document that formed the foundation for how our country is governed today -- the Declaration of Independence.
WHERE: North Grand High School, 4338 West Wabansia Avenue
The exhibit will be in the North Grand Theatre
WHEN: Saturday, April 17, 9 am - 2 pm
Contact: Lisa Wolfe, L. Wolfe Communications, 773-227-1049
###