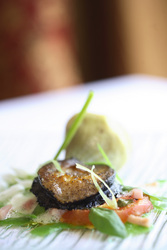 Monterey, CA (Vocus) April 16, 2010
For a first-class forage skirting the Pacific, the annual Pebble Beach Food & Wine is the ticket. Foodies can tee up at Pebble Beach Golf Links for the celebrity chef golf tournament, attend a litany of vertical tasting seminars and graze on creations culled from top local and international toques. The four-day event, set in one of the most pristine marine sanctuary's in the world, also showcases some of the region's top talent Craig von Foerster (Sierra Mar), Mark Ayers (Pacific's Edge) and Cal Stamanov (Marinus). (April).
Leading the national charge for healthy oceans, Monterey Bay Aquarium's Seafood Watch program and annual sustainable seafood conference – Cooking for Solutions – is a perfect springboard into the bounty of Monterey County. Sign on for a variety of events and "Food & Wine Adventures" -- from the "Big Sur Affair" to the "Pastures of Heaven" tour and tasting – pairing top chefs/producers with local wines and cuisine. The kick-off Gala, located within the aquarium, showcases 75 top restaurants, 60 organic and sustainable wineries and the ever clever sushi lounge. (May).
The annual Harvest Farm- to-Table event at Quail Lodge in Carmel Valley is the stop for an inside scoop on all things edible. Barbeque seminars, wine and artisanal cheese tastings, gardening classes and a kids' kitchen round out the event, which includes 50+ rock star chefs and some 100+ wine producers. (Sept.).
Fixate on fungi – and a few black truffle martinis -- at the Annual Truffle Dinner at Bernardus Lodge, under the helm of award-winning chef Cal Stamanov. The six-course food and wine pairing salutes the long-anticipated arrival of truffle season with a careful combination of locally culled ingredients. One of the world's most expensive culinary gems – truffles can fetch more than $200 per pound. (Dec.) The annual Lavender Harvest Celebration kicks up the olfactory with a month-long series of lunches and lavender walks (there are 1,000 plants on the premises of Bernardus Lodge). (July).
The annual Big Sur Food & Wine Festival is a two-day taste trove spanning the kitchens of Big Sur. From Pinot Noir seminars/tastings to a line-up of winemaker dinners, this celebration delivers access to some of the region's most coveted spots including Esalen Institute, Deetjen's Big Sur Inn, Sierra Mar, Nepenthe, Big Sur Bakery and Restaurant at Ventana Inn. A live auction and garden tours of Post Ranch Inn round out the getaway. (Nov.) For fungi foragers, the annual Big Sur Chanterelle Festival & Cook Off is a two-day salute to all things chanterelle (yes, even drinks) with a cast of local chefs delivering their best riff. Events include a fungi hunt, wine/food seminars, professional cook-off, dinner and auction. The line-up of local Big Sur chefs is equally impressive. (Feb.).
Salinas Valley, a rich tapestry of agricultural land delivering the nation's top produce, celebrates its harvest via the Annual Valley of the World Wine & Food Festival. Set in Steinbeck country, this events hits full tilt with a large and rare bottle auction, winemaker diners/tours and grand tasting showcasing 70+ wineries. (Jan.).
The Monterey Wine Festival is the stop for oenophiles looking to cash in on an easy format for tasting wines from the region's nine appellations. Grand tastings in the Monterey Bay Aquarium, a chowder cook-off and peek into new releases round out the event. (June.). The Great Wine Escape Weekend pairs up the region's top wineries and restaurants for a gastronomic gallop, along with on-your-own winery tours, "Winemaker for the Day" educational seminars and Great Wine Escape Finale, a food and wine repast certain to swell all the senses. (Nov.).
A wealth of local food/wine festivals round out the year. Try the Castroville Artichoke Festival, Gilroy Garlic Festival, Earth Day Celebration, Jewish Food Festival, Turkish Festival, Wine, Art & Music Walk, Annual Great Taste of Pacific Grove, River Road Wine Trail Open House, Festa Italia-Santa Rosalia Festival, Taste of Carmel or Chateau Julien's Summer Jamboree.
Stir Things Up
Take home some tricks of the trade with a stint in the kitchen with one of the region's top chefs or pastry gurus. From teasing out the perfect truffle to braising and barbeque techniques, a wealth of single courses add spice to a vacation.
L'Auberge Carmel offers courses in both cooking and pastry in its luxury European-style hotel. Chef Christophe Grosjean and executive pastry chef Ron Mendoza heat things up a series of two-hour kitchen gigs, from savory meats to sinful sweets, complete with wine. Across the street, Cantinetta Luca fires up the pizza oven with lessons on crafting the perfect pie. Sierra Mar at Post Ranch Inn in Big Sur is a new venue, offering a handful of home-chef courses this year.
Wendy Brody's Art of Food is the stop for small groups who customize a session with this PBS "Art of Food" personality. Hosted in Brodie's Carmel Highlands Home, the demonstration kitchen is ideal for learning the craft, and crafting a good time with succulent edibles and a cache of local wines. Clementine's Kitchen, located in Del Rey Oaks, raises the bar for home cooks who enjoy entertaining. Everything from knife skills to making dim sum, Irish stew and tempura round out the menu of courses. Ag Venture Tours combines a cooking class in conjunction with its Carmel Gourmet Food and Wine Tour which makes pit stops for olive oil and wine tasting.
Farm Tours
Earthbound Farm: The nation's largest grower of organic produce, offering 40,000 acres of produce in the heart of Carmel Valley. A full schedule of bug walks, floral classes and an organic lunch stand round out the experience. The commitment of the founders shows through the product: bringing fresh, flavorful and healthy organic produce to as many people as possible.
The Farm: An agricultural education center and local farming business just outside of Salinas is an excellent walk with children. The home-spun facility offers fresh produce, farm tours, family activities and a pleasant rural environment.
Ag Venture Tours: From artichokes to asparagus, olive oil and Pinot Noir, this is the stop for visitors interested in getting out in the field for a day of adventure. Field walks, harvest stops, educational and wine tasting tours are offered. The Monterey Food Tasting Tour combines stops at Earthbound Farm, Lula's chocolates, a fresh fish market and beer or wine tasting.
Local Finds
It is said that Franciscan monks in monasteries around Monterey Bay crafted in the early 1700s what is known today as Monterey Jack Cheese. This semi-firm cow's milk cheese was the forbearer of products coaxed from this region's rich reservoirs. Scout the stomping grounds of the great sardine evolution; savor the lavender fields, olive orchards and specialty produce farms. Pull up a seat for a farm-to-table fired artichoke, crisp sauvignon blanc or ethereal squid risotto. Many of these purveyors offer tours and tastings.
Big Sur Bakery: Hands down some of the region's best hand-crafted breads and pastries served in a sublime setting. Using organic wheat and sugar, local Big Sur bee honey and no-spray fruit, these bakers have a strong following. At night, the Bakery shifts into its dinner duds, serving up one of the area's best repasts. The weekend wood fired bacon + three eggs pizza is legendary.
Bountiful Basket – Specialty gourmet store in Carmel-by-the-Sea specializing in local foods, tasting room serving wine, olive oil, vinegars. Many local products can be sourced here.
Carmel Lavender Company: Amidst the tranquil energy of the Tassajara lavender farm, the Carmel Lavender Company makes tasty dried flowers and buds, intoxicating essential oils and soothing hydrosols.
Carmel Valley Coffee Roasting Company- Follow your nose to superior fresh roasted coffee, using the finest Arabica beans, for an outright zingy day. Locations throughout Monterey County.
Carmel Valley Olive Company: Extra Virgin Olive oil, exclusively grown and bottled in Carmel valley. The Bountiful Basket in Carmel offers a selection of local oils and vinegars for tasting. 831.659.1408.
English Ale Brewery: Based in Marina with an intimate pub, English Ale focuses on producing quality British beers in kegs, bottles and "cash-conditioned firkins," the English Ale Brewery's wares can be found at many fine restaurants and bars in the Monterey Bay area.
Far West Fungi: Delicious, high quality organic mushrooms of many different varieties, with tours of the mushroom farm available by appointment.
Lula's Chocolates: Offering caramels and crèmes to cordials, truffles and toffees, Lula's Chocolates caters weddings and special events, and their chocolates are available at stores throughout Monterey County. Factory tours in Monterey available upon request (tours (at) lulas (dot) com).
Monterey Abalone Company: Once the center of California's commercial abalone fishery, Monterey is now home to sustainable farming of the highest quality California Red Abalone at the tip of Commercial Wharf #2. Visitors can purchase and take home live abalone in a hermetically sealed pack or dive into any local restaurant for the day's haul including the Sardine Factory and Pacific's Edge at Highland's Inn, which offers a seasonal abalone tasting menu.
Monterey Coast Brewing Company: Near the famed National Steinbeck Center in Salinas, the Monterey Coast Brewing Company offers a variety of dishes and brews, from Pilsner to Pale Ale, in a pleasant pub atmosphere. 831.758.2337.
Monterey County Wines: From the country tasting rooms along the bucolic River Road to the top-shelf wine salons gracing Cannery Row and Carmel Valley, Monterey County sports a variety of tasting routes to showcase its 85+ vintners and growers and nine diverse appellations. An estimated 45,000 acres of vineyards grace the region.
Monterey Farms Artichokes – Small locally owned and operated manufacturer of specialty artichoke products for 25+ years. Find this brand in upscale grocery stores, resorts and top restaurants throughout the county.
Monterey Fish Company Inc: Packer and exporter of fresh, frozen, and canned seafood. A wealth of local, fresh products is also available including squid, sardines, anchovies, and mackerel. The company is family owned and operated since 1941.
Monterey Gourmet Foods: Produces 100+ fresh gourmet food products for the premium market and are distributed in more than 10,000 retail stores throughout the United States and abroad. Key products include Monterey Pasta Company, Cibo Naturals, Casual Gourmet and Emerald Valley Organic.
Pezzini Farms: Located in Castroville -- the artichoke Capitol of the world -- the Pezzini family has produced Green Globe artichokes for 50+ years. The farm stand, in an artichoke field just off Highway 1 south of Moss Landing, offers a superb selection of everything artichoke including dips, freshly-harvested Globes and a killer artichoke marinara sauce.
Schoch Family Farmstead: Small batch artisan/farmstead cheeses are the call at this brother-owned Salinas Dairy. From their creative twist on Monterey Jack to the East of Edam and Gabilan Gouda, the 100-bovine rich dairy has been opened since 1944. New farm tours on tap for 2010. 831.449.4944.
Serendipity Organic Farms: Local grown products included heirloom tomatoes and fresh cut flowers.
Sparky's Root Beer: Hand-crafted by Knox Brewing in Pacific Grove, the root beer is made the old-fashioned way from birch root, cane sugar, honey, and spices. For your first taste, go to the Old Monterey Farmers' Market on Tuesday for a glass right from the tap. You'll find their stand at the other end of the market from the food court, beyond the farmers.
###