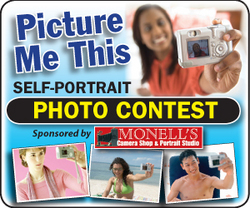 "We run many contests throughout the year, but this month we wanted something unique and quirky; the self-portrait idea fit the mold." said Erik Gliedman, the online editor of RecordOnline.com. "We hope our readers like the idea as much as we did."
Middletown, NY (PRWEB) April 14, 2010
Master of the "long-arm" photo? Love taking photos of people? Then here is a chance to shine – enter RecordOnline.com's "Picture Me This – Self-Portrait Photo Contest."
How does it work? Snap a photo of yourself, whether it is a "long arm" shot, a pic taken on a Mac photo booth, a reflection, or get creative. We want it.
Voting will take place from April 30th, at 12:01pm until May 14th at noon. Once all of the votes are tallied, the judges will deliberate and select a winner based on number of votes, originality, quality, creativity and by visual evidence that the photo was taken by the person in it.
Entrants will have the chance to win a grand prize of a $50 gift certificate to Monell's Camera Shop - and - an Eye-Fi Explore X2 Wireless Memory Card! Second place will win a $25 gift certificate to Monell's Camera Shop and third place will win a $15 gift certificate to Monell's Camera Shop. Winners will be announced May 17th at noon.
"We run many contests throughout the year, but this month we wanted something unique and quirky; the self-portrait idea fit the mold," said Erik Gliedman, the online editor of RecordOnline.com. "We hope our readers like the idea as much as we did."
Voting will be restricted to one vote per day per person. Entry to the contest must be done using the upload tool on the contest page. For additional rules, visit the contest page at RecordOnline.com/photocontest.
Check out RecordOnline.com's Photo of the Day contest as well for your chance to win more fun prizes!
ABOUT DOW JONES LOCAL MEDIA GROUP
Dow Jones Local Media Group (http://www.dowjones.com/lmg), formerly Ottaway Newspapers, Inc., operates eight community media groups around the country – including the Hudson Valley Media Group – that collectively are comprised of 8 daily and 15 weekly newspapers, several lifestyle magazines and other niche publications, and a multitude of affiliated Web sites in seven states.
Media Contact:
Sean Polay
Product Manager, Distributed Media
774.313.6093
ABOUT DOW JONES
Dow Jones & Company (http://www.dowjones.com) is a News Corporation company (NYSE: NWS, NWS.A; ASX: NWS, NWSLV; http://www.newscorp.com). Dow Jones is a leading provider of global business news and information services. Its Consumer Media Group publishes The Wall Street Journal, Barron's, MarketWatch and the Far Eastern Economic Review. Its Enterprise Media Group includes Dow Jones Newswires, Dow Jones Factiva, Dow Jones Client Solutions, Dow Jones Indexes and Dow Jones Financial Information Services. Dow Jones owns 50% of SmartMoney and 33% of STOXX Ltd. and provides news content to radio stations in the U.S.
###