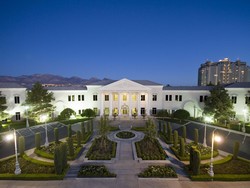 And physicians are ready—an increasing number are inquiring about our program and practice, especially with the further decline of healthcare and quality of health nationwide due to lifestyle issues.
Las Vegas, NV (PRWEB) April 14, 2010
Cenegenics® Medical Institute, global age management medicine leader, formed a new Practice Development Executive Team in response to the rising physician demand for a proactive medical approach and opportunities outside the insurance world—a demand birthed from the recent health reform legislation. Cenegenics is revving up for projected industry growth over the next four years to support an estimated 100 physician partners by 2013.
Cenegenics' strategy includes a flurry of new centers, new programs and this new executive team, consisting of three vice presidents of practice development to recruit, train and deliver ongoing support for physician partners: Dr. Tim Patel, Dr. Michael Resnick and Chris Matlock.
Patel will focus on physician training, the Practice Development Residency program and the 12-month Partner Track business model.
"Now is the right time to recruit good physicians and give them an opportunity to partner with Cenegenics. We've seen controlled growth despite market conditions. And physicians are ready—an increasing number are inquiring about our program and practice, especially with the further decline of healthcare and quality of health nationwide due to lifestyle issues, " Patel said.
Resnick, with 20 years of radio/TV experience as well as five years experience with Cenegenics, will be focusing on physician recruitment and media relations.
"The Practice Development team will be the heart of our growth over the next few years. We currently have 23 physicians nationwide doing practice development, but will have a projected 60 within the next three years. And as we continue to expand our Practice Development physician base, our patient base will grow accordingly since these doctors will spend time educating potential patients on how Cenegenics can change their lives and impact their well-being and lengthened health span," Resnick said.
Matlock has worked with Cenegenics as consultant on practice development and sales since 2007. He will be handling business management and operations to ensure compliance with financial goals.
"I've been constantly amazed at the capacity of this organization to grow against head winds. I'm looking forward to providing an additional resource at the executive level and quite excited about working with the life force of our organization, the staff team, both corporately and across the country," Matlock said.
For more information about Cenegenics, please visit http://www.cenegenics.com. Register for quick access to the informative Guide to Healthy Aging, Executive Summary and NY Times article excerpt. To schedule an interview, please contact Ann Castro, Cenegenics Director of Media Relations: 702.953.1588.
About Tim Patel, MD, Vice President of Practice Development
A member of the American Society of Bariatric Physicians, Patel holds a medical license from Pennsylvania and is a certified life, health and wellness coach for health action group, Circle of Life. He completed his medical education (bachelor of medicine and bachelor of surgery) and internship at MS University in Baroda, India before entering general practice. After moving to the United States, Patel focused on a full-spectrum wellness practice that specializes in bariatric/weight management medicine. Focusing on health assurance, he helps patients manage their weight and improve cholesterol, diabetes and high blood pressure through nutrition, exercise, nutraceuticals and lifestyle coaching.
About Michael Resnick, MD, Vice President of Practice Development
Resnick, a former Major in the U.S. Air Force, received his training at Northwestern University Medical School, Mayo Clinic, Cornell, New York Hospital and Sloan-Kettering Cancer Memorial Hospital. Over the span of 25 years, he was an OB/GYN in Los Angeles, San Diego and New York and he currently holds medical licenses in several states, including California, Nevada, New York, Tennessee, North Carolina and Kentucky. In addition to his extensive medical experience, Resnick spent 15 years working in medical broadcasting on major networks. He has been part of the Cenegenics team for five years and is an integral part of the physician recruiting process.
About Chris Matlock, Vice President of Practice Development
Matlock's credentials include American Express, vice president at Ameriprise and a managing partner of a firm that specializes in executive development and organizational design. He began working with Cenegenics in 2007 in a consulting role. His work in practice development and sales has evolved into a role as Vice President of Practice Development on the Executive Practice Development Team where he focuses on business management and operations.
About Cenegenics
Cenegenics® Medical Institute, recognized leading authority in age management medicine, has centers in Las Vegas, Nevada; Charleston, South Carolina; Boca Raton, Florida; Dallas/Fort Worth, Texas; Atlanta, Georgia; Chicago, Illinois; Los Angeles, California; Philadelphia, Pennsylvania; Washington, DC; New York City, NY. Additional centers are scheduled to open in other major metropolitan areas in the near future. With an established presence in the medical community, Cenegenics uses a proactive approach based on solid science and comprehensive evaluation. Their established protocols have been recognized as the next generation of medical science, capturing global attention. Cenegenics offers CME-accredited physician training and certification opportunities in age management medicine via the nonprofit Cenegenics Education and Research Foundation (CERF). Headquartered in Las Vegas, Cenegenics serves more than 20,000 patients worldwide—2,000 are physicians and their families.
###