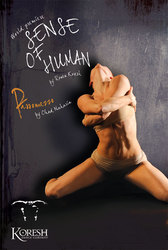 Ohad Naharin, Artistic Director, Batsheva Dance Company "It has become my mission to spread gaga to as many dancers and people as possible. With the support and love of Koresh Dance Company it becomes possible to do so in your part of the world
Philadelphia, PA (PRWEB) April 16, 2010
Koresh Dance Company presents its spring season at the Suzanne Roberts Theatre featuring a company premiere of Passomezzo by the world renowned choreographer Ohad Naharin, Artistic Director of Batsheva Dance Company, and the world premiere of Sense of Human by Ronen (Roni) Koresh. In recognition of this momentous occasion and Mr. Naharin's great influence in the dance world, Mayor Michael Nutter is declaring a Mayoral Proclamation for Mr. Naharin to be presented by Gary Steuer, Chief Cultural Officer for the City of Philadelphia, on opening night. Click thislink below details about tickets and show times: http://www.philadelphiatheatrecompany.org/events/other.html
During Ohad's residency at Koresh Dance Company, he will be teaching master classes in his signature technique, Gaga, at the Koresh School of Dance. View Ohad as he discusses his technique at the Guggenheim Museum in New York. http://www.danceinisrael.com/2009/02/ohad-naharin-on-gaga-video/
Ohad Naharin began his training as a dancer with the Batsheva Dance Company. He came to New York one year later at the invitation of Martha Graham to join her company, as well as to make use of a scholarship to the School of American Ballet. After a year with the Martha Graham Dance Company, he continued his studies at The Juilliard School of Music as well as with Maggie Black and David Howard. He then joined the Maurice Bejart Company in Brussels for one season and made his choreographic debut in 1980 in the Kazuko Hirabayashi studio in New York.
From 1980 to 1990 he performed and worked in New York, where he lived with his wife; the dancer Mari Kajiwara who died of cancer in 2001. In 1990 he was appointed Artistic Director of the Batsheva Dance Company.
Naharin has been the recipient of many awards and honors, including the Chevalier de l'Ordre des Arts et des Lettres by the French government in 1998, two New York Dance and Performance (Bessie) Awards (for Naharin's Virus at the Brooklyn Academy of Music in 2002 and for Anaphaza at the Lincoln Center Festival in 2003), a Doctor of Philosophy honoris causa by the Weizmann Institute of Science in 2004, the prestigious Israel Prize for dance in 2005, an Honorary Doctorate from the Hebrew University in 2008, the American Dance Festival's 2009 Scripps Award for Lifetime Achievement, the 2009 EMET Prize for excellence in academic and professional achievements, and the 2009 Dance Magazine Award.
Naharin's works are performed by many companies throughout the world, including Nederlands Dans Theater, Frankfurt Ballet, Lyon Opera Ballet, Ballet Nacional d'Espana (Madrid), Cullberg Ballet (Sweden), and the Opera National de Paris, among others.
Koresh Dance Company, now in its 19th year, is an artistic force creating innovative and engaging contemporary dance performances for audiences in Philadelphia, across the nation and abroad. Roni Koresh, Founder and Artistic Director, is an integral member of the local Philadelphia arts community and he remains dedicated to sustaining and increasing the artistic reputation of Philadelphia. In addition to the professional dance company, Koresh offers ongoing dance instruction for adults and children in disciplines ranging from jazz to hip hop, modern and ballet at their studios in center city Philadelphia. The company also offers community outreach programs for underserved youth and local artists. To find out more about Koresh please click the link below.
http://www.koreshdance.org
Koresh Dance Company's 2010 Spring Season
Sense of Human by Ronen Koresh and Passomezzo by Ohad Naharin
Suzanne Roberts Theatre
April 29 – May 2
http://www.philadelphiatheatrecompany.org/events/other.html
Gaga Dance Classes at Koresh Dance Company
April 27 – 30, 10 – 11:30AM at Koresh Dance Company
http://www.koreshdance.org
###