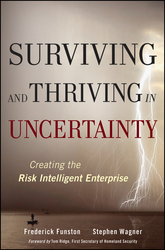 Hoboken, NJ (PRWEB) April 14, 2010
Ninety-six percent of all species that have appeared on the planet are now extinct. Unfortunately, business organizations aren't doing much better. Critical to the survival of humans are the gifts of judgment and what neuroscientists refer to as "executive functions" in our brains, the capacity to gather and process information, and to make rational decisions and plans based on that information and on our wants and needs. A new book from John Wiley & Sons, SURVIVING AND THRIVING IN UNCERTAINTY: Creating the Risk Intelligent Enterprise (John Wiley & Sons; $34.95; April 2010), written by Deloitte's Frederick Funston and Stephen Wagner, authoritative sources on the concept of "Risk Intelligence," recommends that organizations — also equipped with "executive functions" — should be stronger at exercising better judgment, even amid uncertainty and the difficulties it brings. With practical and demonstrated advice on encouraging better decision making through risk management, this book challenges readers to a new, multifaceted, panoramic way of viewing risk that encompasses both asset preservation and value creation.
Enterprises that are most effective and efficient in managing risks to future growth and existing assets will outperform those who are less so. Competitive advantage requires calculated risk taking for reward. How to calculate risks, the reward for taking such risks, and taking enough risks are important. The intelligence to identify and successfully take rewarded risks such as entry into new markets and products, and to avoid unrewarded risks are just as important. Presenting factual, informative, provocative, and sometimes challenging views on the subject of risk management, SURVIVING AND THRIVING IN UNCERTAINTY looks at a number of realities that professionals must confront if their business is to survive and thrive. Risk Intelligence is both a product and the capability to produce it and then act and learn. The result is increased resilience and competitive advantage. Here, readers will find essential guidance on:
•What the Risk Intelligent Enterprise looks like
•Why conventional risk management has failed
•The ten fatal flaws in conventional risk management
•And their ten corresponding enterprise risk intelligence skills
•The rewards of risk intelligence
Drawing from the experiences and perspectives of risk warriors in and out of the business world, the world-class strategies and approaches in SURVIVING AND THRIVING IN UNCERTAINTY: Creating the Risk Intelligent Enterprise help readers get smart about managing risk.
ABOUT THE AUTHORS:
Frederick Funston is a principal with Deloitte & Touche LLP and has more than 30 years of experience working with leaders of numerous global companies. In 2000, Rick created the concept of risk intelligence for value creation and value protection. He is a frequent speaker and writer on leveraging risk intelligence for competitive advantage in complex, global organizations.
Stephen Wagner is a nationally recognized thought leader on corporate governance. In 2009, Steve retired as the managing partner of Deloitte LLP's Center for Corporate Governance, where he led the firm's integrated strategy for governance services. He is a frequent speaker at governance conferences and directors' colleges and has authored or contributed to numerous articles on governance and risk.
About Deloitte
As used in this document, "Deloitte" means Deloitte LLP and Deloitte & Touche LLP, a subsidiary of Deloitte LLP. Please see http://www.deloitte.com/us/about for a detailed description of the legal structure of Deloitte LLP and its subsidiaries.
ABOUT WILEY
Founded in 1807, John Wiley & Sons, Inc. has been a valued source of information and understanding for more than 200 years, helping people around the world meet their needs and fulfill their aspirations. Wiley and its acquired companies have published the works of more than 400 Nobel laureates in all categories: Literature, Economics, Physiology or Medicine, Physics, Chemistry, and Peace.
Our core businesses publish scientific, technical, medical, and scholarly journals, encyclopedias, books, and online products and services; professional/trade books, subscription products, training materials, and online applications and Web sites; and educational materials for undergraduate and graduate students and lifelong learners. Wiley's global headquarters are located in Hoboken, New Jersey, with operations in the U.S., Europe, Asia, Canada, and Australia. The Company's Web site can be accessed at http://www.wiley.com. The Company is listed on the New York Stock Exchange under the symbols JWa and JWb.
SURVIVING AND THRIVING IN UNCERTAINTY
Creating the Risk Intelligent Enterprise Published by John Wiley & Sons, Inc.
Publication date: April 12, 2010
$34.95; Hardcover; 368 pages; ISBN: 978-0-470-24788-4
ATTENTION REVIEWERS
For the convenience of your readers, please include the following in your review: Wiley books are available at your local bookstore or by calling 1-800-225-5945. In Canada, call 1-800-567-4797.
###