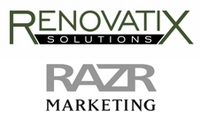 Austin, TX (PRWEB) April 14, 2010
Renovatix Solutions, the leader in providing enterprise branded marketplaces of SaaS (software as a service) applications to SMB customers, and RAZR Marketing, a marketing services agency focused on strategy, announced today a distribution partnership which will allow RAZR to offer this leading edge capability alongside its own suite of solutions for leading financial services, insurance and enterprise clients.
Utilizing Renovatix capability, based on the Etelos Platform Suite for SaaS Distribution, RAZR is now offering RAZR BizApps, a platform of leading SaaS based solutions to SMBs of enterprise customers. Increasingly, more enterprises want to provide these services to their customers. RAZR BizApps enables them to brand their own solution with little to no technology integration while providing immediate incremental value to their most trusted and profitable SMB relationships.
"RAZR has proven to be a thought leader in loyalty marketing and continues to advance technology innovation as a means to quantify measurable results tied to loyalty programs," said J. Scott Robinson, General Manager, Renovatix Solutions. "BizApps addresses a growing need of their customers to capitalize on both the paradigm shift taking place of SaaS distribution of software applications, as well as providing their customers a solution to better engage and retain their most valued customers."
"This partnership allows us to offer solutions to our clients that they can use to expand their business and further their relationships with their own customers. We're very excited to be working with Renovatix and look forward to the opportunities this partnership will foster," said Paul Kelzer, RAZR's vice president of product and operations.
The RAZR BizApps solution is available to clients starting immediately.
About Renovatix Solutions, LLC
Renovatix Solutions provides that "missing link" between leading enterprise companies and user communities whose SMB's rely on them to provide expertise and business critical resources. Through our private label platform, we deliver an enterprise branded marketplace of world-class SaaS applications for virtually everything a SMB needs to start, or manage their business. For more information about Renovatix, please visit http://www.renovatixsolutions.com. MYSMBSTORE™ and Renovatix Solutions™ are trademarks of Renovatix Solutions, LLC.
About RAZR
RAZR Marketing, a marketing services agency focused on strategy, was established in 2005 with the core differentiator of creating sustainable behavior change through the application of proven marketing practice. RAZR provides a variety of marketing services to a broad array of clients, ranging from those in the financial services industry to retail companies. More information can be obtained by visiting the Web site at http://www.razrmarketing.com.
###