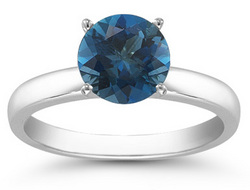 Los Angeles, Calif. (Vocus) April 14, 2010
In the world of fashion, stylish jewelry and affordability don't always go hand in hand. But one Los Angeles retailer is challenging that notion with their stunning new line of rings, paving the way for customers to own high quality, fashion-forward designs. Apples of Gold, a local Los Angeles jeweler known for quality and value, has spent the past year adding more and more stylish designs and brands of jewelry to their classic collections. The result, as seen with their new line of gemstone rings, is the unbeatable combination of fashion and affordability that jewelry lovers are finding hard to resist.
What sets Apples of Gold's new gemstone ring collection apart is that all the gems used in the designs are large, high quality, AAA Rated gemstones. Though each ring is different, the gemstone solitaires generally come in 3 sizes: 0.85 carats, 1.25 carats, and 2.00 carats. Instead of using discount settings, the jeweler sets each large gemstone solitaire in a solid 14k gold ring – all while keeping the pricing very affordable, starting at around $225 for many of the designs.
Since their recent launch, the gemstone solitaire rings have been a wildly popular product on the retailer's website. Many of the stylish rings come in multiple size options for the same center stone, allowing customers to easily find the perfect ring for their budget and taste. Customers can also choose between 14K yellow and white gold, potentially creating a completely different look simply by changing the metal surrounding their preferred gemstone solitaire. With customization, stylish colors and fantastic value, it's no wonder that Apples of Gold's gemstone solitaire rings are being snapped up by jewelry-loving fashionistas everywhere.
About Apples of Gold
Apples of Gold Jewelry makes the resolute promise of providing the same, high-end jewelry as any successful jewelry retailer, but at a dramatically lower price. With over 25 years in the jewelry industry, we are passionate about providing jewelry lovers with gorgeous, high quality pieces that will last a lifetime.
# # #