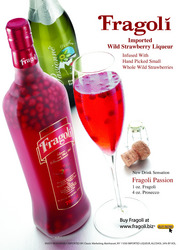 "The overwhelming popularity of Fragoli has far exceeded our expectations, particularly since we are competing with brands that outspend us ten times over"
Stamford, CT (PRWEB) April 14, 2010
As many liquor marketers are scaling back budgets, red hot Fragoli from Classic Marketing Company USA, LLC is on a fast track to achieve more impressions and make an even larger impact this year with its highly visual print advertising campaign. The company has announced a partnership with Food & Wine Magazine encompassing a massive print schedule, as well as events, promotions and additional customized programming that the publication will create especially for Fragoli. "The overwhelming popularity of Fragoli has far exceeded our expectations, particularly since we are competing with brands that outspend us ten times over," Ballin states. Fragoli is a unique wild strawberry liqueur from Italy with handpicked wild strawberries that actually float to the top of each frosted bottle. Passionné Di Fiore Prosecco, the newest addition to the Classic Marketing Co. family is dry, lemony, and bubbly. It is created from 100% prosecco grapes in the northern Veneto region of Italy in the foothills of the Alps.
Food & Wine joins The New York Times, The New York Times Magazine, and New York Magazine as a lead publication in the expanded Fragoli print effort. Published by American Express Publishing, Food & Wine reaches over seven million readers monthly and recently won first place in the North American Travel Journalists Association competition. Well known for its Food & Wine Classic in Aspen, the magazine is the premier monthly source for recipes, cooking tips, travel information, restaurant reviews, chefs, wine pairing, and seasonal/holiday content.
High Tech Brands
To enhance its print campaign, Fragoli and Passionné have launched http://www.fragoli.biz and http://www.passionne.biz, respectively, to provide consumers access to an online purchasing source and a nationwide retailer search. The brands were quick to capitalize on the growing influence of social networking sites and can be followed on Facebook and Twitter for up-to-date news and events. Additionally, and to further bolster the 2010 impact, Classic has retained New York's MSA Advertising & Public Relations to develop programming that will promote the brands via location based mobile applications, which is predicted to emerge as the hot new trend in social networking.
"Uber Hip" Sampling Program Expanded
While initially targeted at a female demographic, Fragoli has enjoyed widespread success partly due to a highly aggressive event marketing program. Last year, the brand was featured at The New York Bar Show, Fancy Food Show, Taste of New York, Food Network's Sweet NYC, as well as several fashion launches, recording artist parties, retail events, etc. Among the high profile events the brand will be tied into this year is "88 for AIDS"; a benefit for GMHC Aids Walk hosted by colorful figure skating personality Johnny Weir and Bravo TV's Andy Cohen. At all of these events, the Fragoli Passion is the featured cocktail. When Passionné's well-balanced combination of alcohol and fruit is combined with Fragoli's unique blend of wild strawberries distilled, the result is a light, refreshing cocktail with an appealing pink color.
For any comments or questions email us: info@classicmarketingcompany.com
# # #