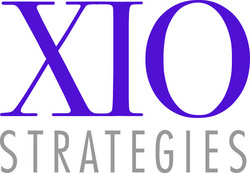 Vienna, VA (Vocus) April 14, 2010
XIO Strategies, Inc., a supply chain management and communications consulting firm, announced that is has completed a RFID product sale of GlobeRanger software and support to the U.S. General Services Administration (GSA). This marks the first major product sale for XIO under GSA Schedule 81 IB and comes as the company significantly expands the selection of products available from partner companies under the Schedule. Currently, XIO offers a variety of Radio Frequency Identification (RFID) and Item Unique Identification (IUID) products and services, including tags, readers, and user training, in addition to a full suite of consulting services.
The sale comes as the Department of Defense (DoD) and other federal agencies aggressively expand deployment of RFID to improve asset visibility both within the United States and around the world. On behalf of the DoD, XIO has recently provided program management services on a number of notable projects including:

Leading the Joint Direct Attack Munitions (JDAM) In-Transit Visibility (ITV) Viability Testing Initiative;
Conducting an Assessment of Mine Resistant Ambush Protected (MRAP) Vehicle Supply Chain Processes in Kuwait under the Joint Logistics Integration Program;
Program Managing the U.S. Navy's Passive RFID Implementation; and
Overseeing the evaluation of business processes, technology capabilities, and data gathering, for the Brigade Combat Team Modernization, aimed at integrating pRFID and IUID within the Army Logistics and Maintenance systems at Ft. Bliss.
This week, XIO will join its clients, partners, and other experts from across the industry at RFID Journal LIVE! in Orlando, FL. Exhibiting in booth #540, XIO will share a number of new white papers with companies in need of information about how to kick-off their projects and effectively use the technology to make business processes more efficient and cost-effective.
About XIO Strategies, Inc: XIO Strategies, a Vienna, Virginia-based woman-owned business, specializes in end-to-end supply chain management and communications consulting services to government, military and commercial organizations. XIO works with its customers to improve business processes, manage technology deployment, conduct research and training, and create marketing and communications programs during periods of change.
###