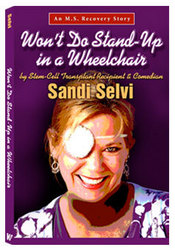 "Maybe laughter is the best medicine. Four years of med school down the drain!" -Dr. Terrance Delaney
Saratoga, CA (PRWEB) April 14, 2010
March is M.S. Awareness Month and the same time Sandi Selvi celebrated the ten-year anniversary of a successful stem-cell transplant and remission from M.S. in her humorous memoir WON'T DO STAND-UP IN A WHEELCHAIR (Wyatt-MacKenzie, Mar. 31, 2010). After being diagnosed with MS in 1995, Sandi Selvi began to decline rapidly and quickly became frustrated with conventional medical options. The drugs had nasty side effects, and in her case, the drugs stopped working. So, in March of 2000 Sandi joined forces with the brilliant doctors at Scripp's in San Diego for a $100,000 autologous stem cell transplant. During the two-month medical procedure Sandi came pretty close to death, but a $10.99 box of comedy tapes she bought at Costco helped her through recovery, and changed her life. Sandi now shares her journey, and her medical miracle, through stand-up comedy, and through inspiring, yet humorous, keynote speeches.
Lynn Ruth Miller, author of STARVING HEARTS, reviews, "Spell-binding-rings true on every level. Inspiring and empowering for anyone facing challenges they think are so insurmountable that they cannot be overcome."
Heather Barbieri, owner of Rooster T. Feathers Comedy Club laughs, "I'm so glad Sandi refuses to do stand-up in a wheelchair, because we don't have a ramp. (Giggles.) Sandi incorporates some great laughs into her M.S. story, proving that she's not only a funny comedian but a strong woman as well." Sandi Selvi has since been delighting audiences with her wit and insight at places like the Improv, Rooster T. Feathers, the Comedy Store, Caroline's on Broadway and many other venues since her successful stem cell transplant. And her keynote speeches are in-demand at corporate and professional association events.
And based on her incredible medical journey, magazine and newspaper articles have been written about her life and sense of humor, and Sandi was also featured in the movie Comedy, Ain't for the Money.
For Sandi's performance dates, video clips, or inquiries about her keynote speeches, visit http://www.SandiSelvi.com. Or email her at: sandiselvi(at)yahoo(dot)com.
For Media Inquiries, contact: Nancy Cleary, Wyatt-MacKenzie Publishing, phone 541-964-3314 or email info@wymacpublishing.com
Book Info: WON'T DO STAND-UP IN A WHEELCHAIR by Sandi Selvi (Wyatt-MacKenzie, Mar. 31, 2010) ISBN 9781936214105, Paperback, retail $15.95. Distributed by INGRAM.
###