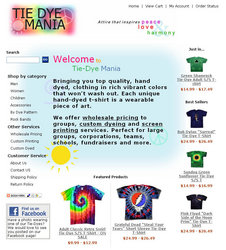 Tie Dye shirts are fun and remind people of happier and more peaceful times
Cranford, NJ (Vocus) April 14, 2010
Specialty retailer TieDyeMania continues to experience 25% to 35% month-over-month sales growth for 2010. President of the company, Scott Marino, says "Tie Dye shirts are fun and remind people of happier and more peaceful times". This past year, TieDyeMania has expanded their collection by adding a variety of holiday theme shirts. From Christmas swirls to St. Patrick's Day Shamrocks and Red, White and Blue Patriotic themes, TieDyeMania has a very large offering.
The new patriotic tie dye shirt collection is expanding with exciting offerings of unique red, white and blue tie dyed shirts for men, women and children. "As we approach Memorial Day, Flag Day and July 4th we see an increase in inquiries and sales for these products. Many schools, teams and organizations use them for marching in their local parades" says Donna Marino, co-owner of Panda Apparel, parent company of TieDyeMania. It helps too that TieDyeMania offers additional customization of the shirts via screenprinting for their customers.
All the Tie Dye shirts offered by TieDyeMania are hand tied and dyed in the USA. Only top quality dyes are used to provide bright colors that won't fade with washing. A favorite saying at TieDyeMania is "Each unique hand-dyed t-shirt is a wearable piece of art".
"The Spring season is always a busy time for TieDyeMania and with the increased offerings and the economy slowly returning we believe it will be our best year ever" says Scott Marino. "We have seen significant growth through our online retail channel, TieDyeMania.com."
About the Company
TieDyeMania and TieDyeMania.com are divisions of Panda Apparel LLC which carry high quality tie dyed t-shirts. All shirts offered for sale are hand tied and dyed in the USA.
Panda Apparel, LLC was formed in 2007 and is owned and operated by Scott and Donna Marino. The two share over 20 years of experience in the apparel industry and 12 years of online specialty retailing.
###