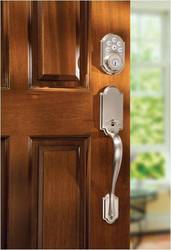 It's with great pride that Kwikset accepts the CEA Mark of Excellence award for the SmartCode with Home Connect Technology
Lake Forest, Calif. (PRWEB) April 14, 2010
Kwikset(R), an innovation leader in the residential door hardware industry, is proud to announce that it has won a 2010 Mark of Excellence Award, presented by the Consumer Electronics Association's (CEA) TechHome Division for Security Product of the Year for the Kwikset SmartCode(TM) with Home Connect(TM) Technology.
Kwikset's SmartCode with Home Connect is a one-of-a-kind keyless electronic lock developed for interoperability with home automation and security systems. Homeowners can use a Web-enabled cell phone, the Internet, or home automation/security touch panel, to check their door lock status, automatically arm or disarm their security system, and receive text notification when someone has entered. This is the only lock on the market that has true, one touch locking for added convenience. Homeowners can select to have their doors automatically lock after 30 seconds for the ultimate in convenience and peace of mind. It also has the ability to speak wirelessly with other home electronics, such as lighting, the thermostat and music/entertainment system(s).
"It's with great pride that Kwikset accepts the CEA Mark of Excellence award for the SmartCode with Home Connect Technology," said Keith Brandon, group product manager, Residential Access Solutions, Kwikset. "It's the only product available today that offers homeowners a motorized deadbolt and thus the convenience of true remote locking without any physical interaction with the door."
Kwikset's SmartCode with Home Connect Technology was recognized at the Mark of Excellence Awards Reception during the eleventh annual Electronic House Expo (EHX) in Orlando at the end of March.
For a full list of all Mark of Excellence winners and honorees, please visit CE.org/markofexcellence. For more information on Kwikset's SmartCode with Home Connect, please visit http://www.kwikset.com/wirelesslocks, or call 866-863-6584.
About Kwikset
Stanley Black & Decker, an S&P 500 company, is a diversified global provider of hand tools, power tools and related accessories, mechanical access solutions and electronic security solutions, engineered fastening systems, and more.
The Stanley Black & Decker Hardware and Home Improvement Group (HHI) is part of the company's Mechanical Access Solutions division. HHI develops, manufactures, markets and sells builders' hardware, residential and commercial door hardware, kitchen and bath faucets, shower systems and bath accessories under the Stanley, National Hardware, Kwikset, Weiser(R), Baldwin(R), K2(TM) and Price Pfister (R) brands. Headquartered in Orange County, California, HHI has a global sales force and operates manufacturing and distribution facilities in the US, Canada, Mexico, and Asia.
About CEA
The Consumer Electronics Association (CEA) is the preeminent trade association promoting growth in the $165 billion U.S. consumer electronics industry. More than 2,000 companies enjoy the benefits of CEA membership, including legislative advocacy, market research, technical training and education, industry promotion, standards development and the fostering of business and strategic relationships. CEA also sponsors and manages the International CES - Where Entertainment, Technology and Business Converge. All profits from CES are reinvested into CEA's industry services. Find CEA online at http://www.CE.org.
###