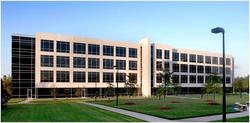 As a growing technology company, we found ourselves rapidly outgrowing our current location
Durham, NC (Vocus) April 15, 2010
iContact Corporation, an industry leader in email marketing services for small and mid-sized businesses, today announced it is relocating its headquarters from Durham to Morrisville, North Carolina, just outside of Research Triangle Park and Raleigh.
The move, scheduled for October, is designed to accommodate iContact's rapidly growing work force. Located next to Lenovo's headquarters in Perimeter Park, the new iContact offices will have more than 70,000 square feet initially, and can accommodate up to 500 employees.
"Our vision is to build a great global company based here in North Carolina," commented Ryan Allis, CEO of iContact Corporation. "We started out in two rooms in downtown Chapel Hill in 2003. We moved to Durham in 2004 when we reached 12 employees. Our new headquarters location in Morrisville will be a great home to achieve our vision and continue our rapid growth to 500 team members and beyond."
iContact presently has 195 employees based in Durham, North Carolina.
"As a growing technology company, we found ourselves rapidly outgrowing our current location," added Aaron Houghton, Co-Founder and Chairman of iContact. "Our new location will allow us the room to continue to grow, while being a vital part of the local North Carolina community."
About iContact
With more than 62,000 customers, iContact provides email marketing for SMBs and non-profits. iContact allows for easy creation of email newsletters, surveys, and autoresponders. Market leaders like Intuit, Vonage, Symantec, International Paper, LG Electronics and ReMax, use iContact to build stronger relationships with their customers and prospects at a fraction of the cost of traditional marketing methods
iContact, designed for the SMB market is available at http://www.iContact.com; iContactPlus, a suite of custom and managed services designed for mid-sized organizations, is available at http://www.iContactPlus.com.
For media inquiries, contact Chuck Hester, APR, Communications Director,
Chuck(at)iContact(dot)com or (919) 459-1451.
Visit us on Twitter @iContactCorp, iContact Linkedin Group, and our Facebook Fan Page.
# # #