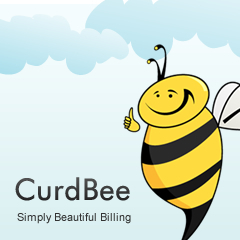 Rather than give them a one-time commission, we thought it would be good to try and give them a cut of everything we make off the friend's account.
Las Vegas, NV (PRWEB) April 15, 2010
CurdBee, an online invoicing application aimed at small businesses and freelancers, launches their CurdBee Partner Program (CBPP), an effort to allow their users to benefit directly from referring their friends to the service. Unlike a traditional referral program, CBPP aims to offer users the chance to benefit from their referrals for as long as the users they refer use the application.
Built from scratch, this referral system was put together by the CurdBee team because they felt that existing solutions did not offer them the flexibility to offer users the chance to earn from referrals in the long run. Rather than give users a one-off payment when a friend signs up for the service, CurdBee's Partner Program aims to give their users a percentage of whatever their referrals spend for as long as they use the service.
"We saw that many of our existing users were recommending us to their friends, and we wanted to give them a chance to benefit from this," said Lakshan Perera, Lead Developer of CurdBee. "Rather than give them a one-time commission, we thought it would be good to try and give a them cut of everything we make off the friend's account. In the long run, some users may even end up being able to cover their own CurdBee account payments via the earnings they receive from CBPP."
Of course, this new feature comes close on the heels of several other enhancements to the online billing service. Late last year, the team introduced support for the Authorize.net Payment Gateway, a popular online transaction processing service that can be accessed from virtually anywhere in the world. Built on their partnership with US based Internet Merchant Service provider e-onlinedata, the gateway module offers CurdBee users another method to accept online credit and debit card payments for their invoices, beyond Paypal or Google Checkout.
"We've been really pushing ourselves in trying to make CurdBee accessible to as many people as possible," said Lakitha Wimlarathna, CEO. "Apart from the localization options we rolled out a while back, the improved data import features we introduced recently mean that users can now migrate easily from other billing applications such as Freshbooks and Blinksale or collaboration suites like Basecamp."
The CurdBee team is constantly looking for new ways in which to share their success with their users. From a promotion they titled 'CurdBee Bundles' over the December holidays, to the Partner Program they are launching, the outfit is passionate about sharing their success with their passionate users.
Further, unlike many loyalty schemes out there today, the money which users earn through the CurdBee Partner Program does not have to be spent inside the application itself.
"We've designed the system so that people can withdraw their profits directly through Paypal," says Buddhika Laknath, the Lead Developer behind the new referral management application. "We think it's important that users be given this option. After all, we decide how we want to spend our money - why shouldn't they?"
In essence, the CurdBee Partner Program is much more than a referral program in that it rewards loyal users by making them benefit directly from the revenue the CurdBee makes. While a traditional referral program is generally about handing out tokens, this initiative by CurdBee means that the applications' most loyal users will benefit exponentially as the service grows in size and popularity, creating a win-win situation for both user and provider.
About Vesess
Vesess is a Sri Lankan based web application development company with a presence in the US, that believes in small teams, solid development and great design using Web Standards and Free Software. Beginning as a small design firm in Colombo in 2004, Vesess grew with the web, and today maintains CurdBee, a popular online invoicing application for small businesses and freelancers.
# # #