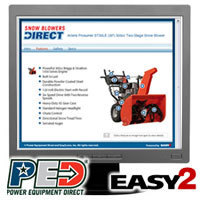 Virtual product demos are next best thing to personally kicking the tires
Bolingbrook, IL (PRWEB) April 15, 2010
Nothing can replace the real-life feel of test driving a zero turn lawn mower.
"Unfortunately, there isn't a single store in America where you can test drive all 120 different lawn mowers models," said Jon Hoch, founder and CEO of Power Equipment Direct.
The shopping experience at a big box or mass merchant usually equates to either staring at padlocked lawn mowers or reading the information on the back of the box.
Now, Power Equipment Direct - a leading online power equipment dealer - is replacing personal experience with virtual experience to booster consumer confidence and conversion rates.
"Virtual product demos are next best thing to personally kicking the tires," said Hoch. "With interactive pictures and videos, you can now experience a product in action."
This winter, Power Equipment Direct partnered with Easy2 Technologies to test how interactive product demos - like the ones below - could improve conversion rates of snow blowers.

Snow Joe - Ultra Electric Snow Thrower
According to Hoch, the results were outstanding. Easy2 Technologies' interactive product demos generated a unique virtual experience, bringing products to life and encouraging customers to buy.
Based on the initial success, Power Equipment Direct is rolling out a product demo program encouraging all manufacturers to participate, further increasing their sales through Power Equipment Direct.
Through a new partnership, Easy2 Technologies will create and host 10 virtual products demos on the PED Network of web stores.
For more information about the program, contact Jon McCafferty at Easy2 Technologies at 216-812-4513.
See the PDF about the Power Equipment Direct Rich Media Program
Easy2 Technologies is a leading rich media firm specializing in the development and distribution of interactive content. At their forefront of their services is the MYO ("Make Your Own") Suite, a web-based Software as a Services platform. From product demos and selectors, to buying guides and brand stores, MYO's breadth of product offer solutions for any online merchandising need.
Power Equipment Direct operates nine niche online superstores. The Bolingbrook, IL-based company operates AirCompressorsDirect.com, ElectricGeneratorsDirect.com, PressureWashersDirect.com, SnowBlowersDirect.com, MowersDirect.com, WaterPumpsDirect.com, SumpPumpsDirect.com, ChainSawsDirect.com and LogSplittersDirect.com.
###