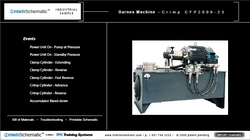 "IntelliSchematic enhances TPC Training Systems' consulting services approach to deliver plant-and machine-specific training to our industrial client base." said Robert Teberg, Chief Operating Officer at TPC Training Systems.
Buffalo Grove, IL (PRWEB) April 16, 2010
TPC Training Systems today announced the acquisition of a controlling interest in IntelliSchematic, a pioneer in the delivery of machine-specific troubleshooting and technical training products. IntelliSchematic's technologies include sophisticated tools that automate machine schematics, depicting the accurate mechanical or electrical flow chart for each machine state and the ability to drill into a specific component for additional training and troubleshooting details. In addition, IntelliSchematic's KwikRef online courseware will be integrated into TPC's robust Internet-based learning management system, TPC Online™.
Working together, TPC Training Systems and IntelliSchematic can now deliver a comprehensive industrial skills training solution covering core competencies and specific competencies, including machine-specific training and troubleshooting tools.
"We are extremely excited to have entered into this acquisition agreement with TPC Training Systems and view the integration of our two companies as a clear win for our clients." said Brad Jensen, President of IntelliSchematic, LLC. "While our current business relationships will continue to grow, we look forward to extending our technology into a vast array of new markets and industrial settings."
About IntelliSchematic
IntelliSchematic, LLC was founded in 2001 as Certified Fluid Power, a retailer of motion-control training software including hydraulic, pneumatic, mechanical, electrical, and PLC courseware. The company also developed a complete blended learning solution, incorporating a patented application named IntelliSchematic to take skills training from initial awareness to troubleshooting mastery. Located in Alpine, Utah, IntelliSchematic employs 12 people in disciplines of instructional design, graphic design, training, mechanical and electrical engineering, sales and finance. The company continues to grow at a rate of 20% per year, with focus on mining, process plants, industrial manufacturing, energy, steelmaking, OEMs, utilities, and other industries utilizing motion control and power transmission equipment for production and operation.
About TPC Training Systems
TPC Training Systems is a division of Telemedia, Inc. a privately held company, with headquarters in Buffalo Grove, IL. The company is a leader in industrial skills and safety training. TPC offers a variety of products and services, including both self-study text and elearning programs, and instructor-led training, to support a client's technical and safety skills development needs. TPC products and services have been used at more than 40,000 client sites around the world, to train approximately 3,500,000 skilled workers. These product and service offerings are essential to understanding the skills required to safely and effectively operate, maintain, and manage industrial equipment. TPC training programs encompass core competencies and specific competencies for technical skills development, as well as several safety competencies to satisfy regulatory compliance and maintain a safe work environment.
###