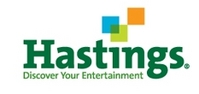 "Hastings began as a music retailer over 40 years ago. It's only natural that we recognize Record Store Day with a huge celebration of all that's music today" - Kevin Ball, VP of Marketing for Hastings
Amarillo, TX (PRWEB) April 15, 2010
Saturday, April 17th gives devoted Hastings music lovers another reason to celebrate the sounds that make their turntables spin. Hastings Entertainment will host a chain wide Hastings Record Store Day with special one-day music promotions on CDs and vinyl records and will also include a specially created Record Store Day t-shirt on sale in every store.
"Hastings began as a music retailer over 40 years ago. It's only natural that we recognize Record Store Day with a huge celebration of all that's music today" says Kevin Ball, Vice-President of Marketing for Hastings.
Hastings Entertainment will host the National Record Store Day event at all Hastings locations on Saturday, April 17, 2010. Please contact store managers at the Hastings nearest to you for details on Record Store Day events in your area. Customers can go to the website to find their nearest store location.
About Hastings
Founded in 1968, Hastings Entertainment, Inc. is a leading multimedia entertainment retailer that combines the sale of new and used books, videos, video games and CDs, as well as trends merchandise, with the rental of videos and video games in a superstore format. We currently operate 147 superstores, averaging approximately 21,000 square feet, primarily in medium-sized markets throughout the United States.
We also operate goHastings.com, an e-commerce Internet Web site that makes available to our customers new and used entertainment products and unique, contemporary gifts and toys. The site features exceptional product and pricing offers. The Investor Relations section of our web site contains press releases, a link to request financial and other literature and access our filings with the Securities and Exchange Commission.
Hastings Entertainment is a publicly traded company on NASDAQ under the symbol HAST.
For more information, please contact Advertising Manager, Cherie Norman at (806) 677-1482
# # #