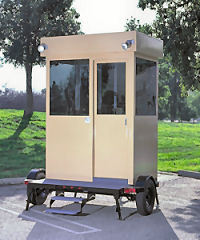 Los Angeles (PRWEB) April 15, 2010
Now, more than ever, security at public, cultural and sporting events is on the minds of facility managers whose job it is to secure the venues, and B.I.G. Enterprises (http://www.bigbooth.com) has been asked to help provide security for these venues with pre-fabricated mobile booths.
One large facility in Texas is Reliant Park, including The Reliant (Energy) Astrodome, Reliant Arena, Reliant Center, and Reliant Stadium, which hosts more than 700 events per year with an average attendance of 15,000. Cheyne Day, Security Manager for Reliant Park, says that mobile guard booths are a critical component of his security detail, which during events like the Super Bowl can involve up to 2,000 people, from the familiar "Event Staff" in their yellow windbreakers to uniformed, off-duty city police and county sheriffs who monitor crowds and control traffic.
Originally Reliant Park built stationary booths onsite, but a problem surfaced—the structures kept getting hit by trucks off-loading for trade shows and other events. Finally, they came upon the mobile booth concept.
"With mobile booths, you can create layers of security in concentric circles emanating from the facility you're securing. These rings of layered security are a much bigger deterrent to would-be criminals in persuading them that there is a greater chance of them being stopped. Even if they do manage to set off their bomb at the first or second layer—they are still away from the building and the critical mass of people they are aiming for."
Mobile booths at Reliant Park also address the need to customize the parking space for various events. "Officers were out in the weather and couldn't take all the gear they needed to do their jobs. They had to use their cars as pseudo-booths, which invariably blocked traffic and were dangerous as the officers had to constantly go back and forth to fetch equipment or check computer files. It was just awkward." Day continued, "It wasn't the image we wanted to project."
"Mobile booths offer us the flexibility to customize our parking and crowd control to each event, and this equals better security. Event conveners have been very pleased with our ability to be anywhere they need us to be in terms of security, and when you are talking about a complex as big as this one, you had better be able to protect the facility and the patrons inside."
More Information about B.I.G. Enterprises:
For over 45 years, B.I.G. Enterprises, Inc. of South El Monte, CA has engineered and manufactured high quality prefabricated booths for the security and parking industry. Their large selection of preassembled buildings includes guardhouses, cashier booths, portable buildings, bus shelters and a variety of custom made kiosks.
Utilizing a proprietary "Critical Span" manufacturing technique that increases convenience and strength in prefabricated structures, the B.I.G. team has booths protecting our nation's capital, nuclear power plants, international airports, colleges, universities and corporate offices.
Contact Information:
Dave King
B.I.G. Enterprises, Inc.
9702 East Rush Street
South El Monte, CA 91733-1730
Toll Free: 800.669.1449
URL: http://www.bigbooth.com
###