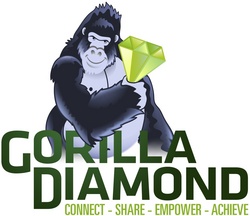 Our passion lies in helping create remarkable businesses and leaders!
San Diego, CA (PRWEB) April 16, 2010
In today's fast-paced business world, ongoing professional improvement is a necessity. Knowledge is power, connections create opportunities and experience can set you apart. Oftentimes, business leaders and entrepreneurs are aware of where they need to improve, but are not sure of where to turn for the solution. This common problem is the idea behind the creation of GorillaDiamond.com.
GorillaDiamond.com is an online community of users and consultants that are passionate about the creation of remarkable businesses. Within the GorillaDiamond.com social network, students, entrepreneurs and professionals benefit from the resources and knowledge that is shared, resulting in the future success of their business.
The backbone of the community consists of the Forum and the Vault. The Forum allows users to quickly and easily post questions and share ideas with other users and consultants. The Vault consists of resources that the users and consultants post. These resources include Guides, Surveys, Training Videos, Seminars, Book Summaries, Case Studies, Calendars, Newsletters and much more that will give users the tools they need to help solve their problems and reach their goals. Encouragement to provide resources to the Vault is achieved by utilizing a unique ranking system and rewarding users with emblems who post content that is deemed valuable by their peers, thereby giving them more credibility in the community.
An exclusive resource of the GorillaDiamond.com community is the Consultant Directory. It is widely known that consultants often contain the processes and knowledge needed to solve the problems of others. The issue that often arises, however, is trying to find the right consultant, in the right city, with the correct specializations and track record of successfully solving an individual or organizational problem. GorillaDiamond.com solves this issue by providing users with a Directory that connects them to consultants around the world. Similar to the Forum, value is gained from the Directory by allowing users to rank and write reviews about consultants. Users will rank consultants based off the content they post on the site along with written reviews about past or current interactions that they have had with that consultant.
Are you interested in learning more about GorillaDiamond.com? Visit http://www.GorillaDiamond.com and enter your email address to be notified when the community is up and running!
# # #