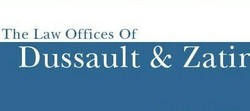 New Bedford, MA (PRWEB) April 15, 2010
The law firm of Dussault and Zatir settled out of court a Workers' Compensation claim for the amount of $34,000.00.
The employee was injured while on the job while working as a truck-cleaner. The employee was in the back of a stationary box truck when another co-worker began to move the truck forward. The employee fell out the back of the box truck and sustained a post-concussive injury along with a neck sprain. The employee sought chiropractic and physical therapy care and ultimately pain management, where he continues to manage his pain.
The employee was released to return to work with light duty restrictions and as such agreed to resolve his Workers' Compensation claim. Dussault and Zatir was able to negotiation a $34,000.00 settlement for the employee to include an agreement to pay ongoing medical expenses for life.
Dussault and Zatir is a law firm in Boston, New Bedford, Fall River, Tauton, and Bristol, RI. They specialize in auto accident injury, serious injury, death claims, and work related injuries.
###