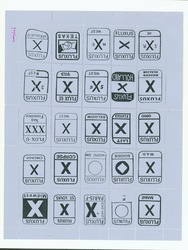 Mail Art is a global collage that anyone can participate in. Fluxus is the attitude that drives it. - John Held Jr. Curator
New York, NY (PRWEB) April 15, 2010
Stendhal Gallery will present the exhibition, "Greetings from Daddaland: Fluxus, Mail Art and Rubber Stamps," opening April 15 - May 29. The exhibition is drawn from the collections of John Held, Jr. of San Francisco and Picasso (Daddaland) Gaglione of Chicago.
The present Stendhal Gallery exhibition continues the exploration of avant-garde art Gaglione and Held began tracing together in the 1970s. Gaglione and Held presented a showcase for Fluxus, Mail Art and rubber stamp art at The Stamp Art Gallery in San Francisco during the mid-1990s. The current exhibition documents the gallery's activities through posters, exhibition catalogs, performance documentation, mail art, artist postage stamps, rubber stamp box sets made to commemorate the various exhibitions and excerpts from past Stamp Art Gallery exhibitions.
Gaglione began creating rubber stamp box sets to accompany exhibitions by contemporary artists and to honor historic figures of the 20th Century avant-garde, who had influenced his artistic practice. In putting together the rubber stamp box sets, Gaglione and Held followed the example of Fluxus impresario George Maciunas in his production of Flux-Kits. These inexpensive yet elegant multiple editions set the tone for the production of these post-Fluxus editions.
The Stendahl Gallery exhibition will recreate some of the more notable shows Gaglione and Held presented in the past, including the exhibition of Dutch artist, Ruud Janssen's, Rubber Stamp Archive, which includes rubber stamp impressions by Fluxus artists. Janssen will lecture at Stendhal Gallery with curator John Held, Jr. Other artists shown in the exhibition include New York Correspondance School artists Ray Johnson and May Wilson, Arman, Robert Watts, and Mail Artists buZ blurr, M. B. Corbett and G. A. Cavellini
Several films will be shown during he exhibition, including a 1977 interview with Ray Johnson by curator John Held Jr., performances by Gaglione and Held, and documentaries on Mail Art.
A complete collection of over fifty Stamp Art Gallery catalogs were previously acquired by the Museum of Modern Art Library, New York. Held has also compiled collections for the Getty Museum and the Archives of American Art, Smithsonian Institution.
Curators: John Held Jr. and Picasso Gaglione
Lecture on Mail Art and Ruber Stamp with Ruud Janssen and John Held Jr. at Stendhal Gallery, Saturday, April 17th, 1 p.m.
This exhibition has been produced and organized by Harry Stendhal and partially sponsored by George Maciunas Foundation Inc. a 501 (c)(3) tax-exempt non-for-profit arts organization.
Stendhal Gallery
545 West 20th Street
New York, NY 10011
212-366-1549
http://www.stendhalgallery.com
###