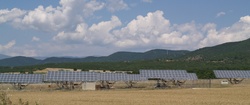 West Sacramento, CA (PRWEB) April 16, 2010
The Spanish company PROINSO, specialized in the distribution of modules, inverters, trackers and fixed structures for photovoltaic systems, has been awarded the supply of various solar photovoltaic farms in Greece that will all together amount to more than 7.54 MW of installed capacity. The agreements include the supply of 2.65 MW of 2-axis trackers from MECASOLAR, a company who together with PROINSO forms part of Grupo OPDE.
These agreements in the Greek market are in addition to the contracts signed in early 2010 in Greece. In the first quarter of the year, PROINSO Hellas had already signed the supply for 10.54 MW of modules and invertors in the country, which already represents 23% of the expected activity in the Greek market for 2010 and which is situated at 40 MW, according to initial estimates from the Spanish multinational.
Similarly, it will supply 3.45 MW of MECASOLAR 2-axis trackers, which will be supplied from MECASOLAR Hellas, the manufacturing subsidiary located in Thessaloniki. This figure represents 35% of all the trackers (12 MW) which are planned to be installed in Greece during the current year.
By signing these new agreements, PROINSO and MECASOLAR consolidate their leadership position in the Greek market, where they are gaining ground internationally.
Latest agreements

According to reports from the multinational PROINSO- the first of the distribution agreements have been signed with the company REW Hellas for several photovoltaic solar farms and include the supply of 4.14 MW of TRINA SOLAR modules and SMA inverters.
PROINSO has also signed another contract to supply two-axis solar MECASOLAR trackers, REC inverters and modules for a 1 MW facility in Doirani, municipality of the county of Kilkis.
Thirdly, and for different installers, PROINSO has signed agreements for the supply of various installations of 100 kW and 150 kW located in regions of Ipirus, Central Macedonia, West Macedonia and East Macedonia. Together, these orders reach the supply of 1.5 MW of modules, 1.5 MW of SMA Inverters and 1.65 MW of MECASOLAR 2-axis solar trackers.
Installer network and Tracker Factory in Greece
Apart from the agreement reached, PROINSO HELLAS would like to stress again the "warm welcome" they have received from Greek installers for their qualified installer program. So far, PROINSO HELLAS boasts 17 qualified installers, in addition to REW Hellas and ADIVA Hellas, with which the company is working closely on the commercial, supply and technical support side.
It should be noted that all MECASOLAR tracker orders for this market are being manufactured entirely the factory of more than 6,000m2 that the company has in Thessalonika (Greece).
The company soon expects to meet all the orders for the Bulgarian and Turkish market throughout the year from the Greek factory. The tracker company who form part of the Grupo OPDE has manufacturing factories in the United States and Italy, and have markets such as Mexico and India within their sights.
Corporate Information
PROINSO
http://www.proinso.net
PROINSO is a Grupo OPDE company specialized in engineering and supply for photovoltaic solar plants. The company has distributed up until 2009 more than 250 MW.
PROINSO has distribution agreements with Trina Solar and REC for modules and with SMA for inverters and is responsible for engineering and distribution of MECASOLAR trackers and fixed structures. It is the first global distributor of TRINA modules, as announced by the manufacturer on 29 October with the signing of over 108 MW of supply for 2009-2010. It is also the leading distributor of SMA inverters.
It has offices in Spain, Greece, Italy and California (USA). Turnover for PROINSO in 2010 will be around €200 M., ranking it as the European distributor of reference.
###