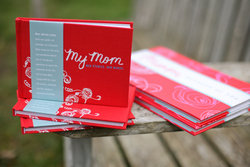 She gave you her hand to hold, her heart to call home, and the rich gift of laughter to keep and to share. What can you give her in return?
Seattle, WA (PRWEB) April 21, 2010
"Over the past 25 years, we've learned that the very best Mother's Day gifts are usually the ones that cost the least but mean the most," says creative director Dan Zadra of Compendium Inc.
Compendium is one of the nation's foremost designers of inspirational gifts, and the winner of last year's prestigious Louie Award for "Best Greeting Card." Here are Zadra's Top 7 Mother's Day gift ideas under $20 for 2010:
-Frame a photo of the two of you, and write her a note describing your memories of that shared moment.
-Buy a small flowering tree like a cherry, dogwood, or crabapple, and plant it in her yard. She'll think of you as she watches it grow and bloom.
-Buy two matching teacups; give her one, and keep the other. Tell her to think of you sharing tea together whenever she uses hers.
-Write a letter describing some of your fondest and most beautiful childhood memories together.
-Give her a set of stationery or a box of cards, pre-stamped and hand-written with your address. Then, promise a response to every letter she writes.
Or, this great idea: At Compendium, the most sought-after Mother's Day gifts cost under $15. One of the best examples is a little hardcover book entitled, "My Mom—Her Story, Her Words."
This book is filled with great questions that only your Mom can answer—questions such as, "Mom, when you were a child, what was your neighborhood like? What is the best memory of your own Mom and Dad?" You'll spark conversation, cherish old memories and create new ones as she answers these questions, and end up with a family heirloom in your mother's own handwriting. This book costs only $9.95, but creates a priceless family keepsake—something that will be treasured for generations to come.
According to Zadra, "No matter which gift you choose this Mother's Day, the thing to remember is that the true value of a gift is not its price, but its significance."
For more information on "My Mom—Her Story, Her Words" and other Mother's Day gifts under $15, visit the makers of inspirational gifts, Compendium, Inc. at http://www.live-inspired.com.
###