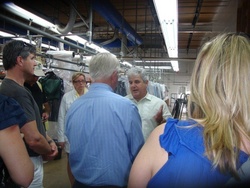 (PRWEB) April 16, 2010
Rey's Cleaners hosted a tour of their plant in Miami on March 26th for a group of international dry cleaners that had attended the Methods for Management Success 2010 Conference.
Angel Suarez and his son Frank and Angel led the group through their plant and answered questions regarding their strategy, pricing, operations, and clientele. Angel explained that Rey's largely serves the upscale community of Miami, and that they have a flourishing route business which reaches far outside the metro area. The group was impressed by their system of operations, quality and their productivity.
For over 30 years, Rey's Cleaners has held firm to the simple yet essential values of quality, care, and service. From humble beginnings – with only eight employees in one store – Rey's has grown to service Miami-Dade, Broward, and Palm Beach counties with over fifty employees, five pick-up and delivery routes, and two locations. And just as Angel Suarez entered into the family business, so has a new generation of Suarezes – Angel's wife, Maria, and his children, Frankie, Angel, and Cristina all work together to ensure that Rey's remains the leading high-end dry cleaner in South Florida for years to come.
Methods for Management held its biennial Success conference on March 22 – 26, 2010 aboard the Norwegian Sky cruise liner traveling between Miami and the Bahamas. The theme of Success 2010 was "Sailing Out of the Slump," the conference focusing on cooperative activities to promote business development and creativity among owners in the dry cleaning industry from across America and Canada.
METHODS FOR MANAGEMENT serves the drycleaning industry through independent consulting relationships as well as coordinating and facilitating Management Bureaus. MFM Management Bureaus provide a safe, non-competitive environment where members are comfortable sharing information, issues, and concerns with peers that they trust and respect. MFM has helped clients, nationally and internationally, improve profits and operations since 1953.
For further information please call the MFM office at (253) 851-6327.
# # #