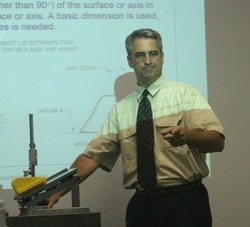 we established a formal training division in 2002 and have trained more than 4,600 people from nearly 2,000 companies
Minneapolis, MN (PRWEB) April 15, 2010
The QC Group, a provider of quality-related inspection, reverse engineering, training and staffing services for engineering projects, today announced that its QC Staffing service is now available in eight states, and its 70-plus different training programs are offered in 50 cities. In making the announcement, General Manager David DeVowe said, "We've built our repertoire of quality-related training programs over the past 24 years. While we offered five or six different training programs since the company was first formed in 1986, we established a formal training division in 2002 and have trained more than 4,600 people from nearly 2,000 companies."
QC Training has steadily grown the number of its quality control and inspection training workshops—at customer sites and at conference centers—which now include self-directed and online formats as well. One-, two- and three-day workshops are conducted by experts with industry experience who hold certifications in their subjects, which fall under the following categories: Technical, Six Sigma/Lean/Core Tools, ASQ Review Certification, and Auditing.
Like most workshop participants, Stratasys, Inc. continues to use The QC Group Training for "very well done sessions all the way around," according to Del Burmeister, head of Stratasys' Supplier Quality Engineering. He attended GD&T Training along with some of his supplier quality engineers, who have also attended SPC Training.
The QC Group founder and president, Dan Medford, heads up QC Training and occasionally conducts programs. According to him, The QC Group Training calendar is available on the company's website and at any given time features up to 550 public workshops. "The schedule is updated every few weeks. In addition, we create customized programs for companies with groups of six or more." Subjects include: Lead Auditor Training, Blueprint Reading, GD&T Training, PPAP training, Process FMEA, SPC Training, Measurement Uncertainty. Inquiries about workshops should be directed to (952) 746-5861.
# # #