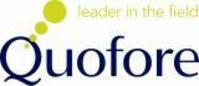 Milton Keynes, UK (Vocus) April 15, 2010
Quofore announced today that Dave Barker, professional services director, EMEA, will present at the World Whiskies Conference on Wednesday, April 21. A popular two-day business summit that addresses the sales, marketing and production challenges of the global whiskey industry, the conference will take place at The Radisson SAS in Glasgow, Scotland.
Barker will share his perspective on navigating modern techniques in retail execution for the alcohol sector throughout the developing markets of Brazil, Russia, India, and China (BRIC). Speaking on topics related to merchandising, brand visibility, category management, and direct store delivery, Barker will present from the vantage point of an enterprise software vendor that supports consumer goods manufacturers in their efforts to reach a global consumer base.
"One of the biggest challenges facing suppliers selling in such emerging markets is understanding the actual sell through to consumers given the distributor-dominated sales model and vast, often rural, geographies involved. For both on- and off-trade channels, a mobile technology-led approach to retail execution can deliver huge returns," Barker said.
About Quofore
Founded in 1998, Quofore (formerly O4 Corporation) is recognized as the international leader in mobile software solutions for field representatives in consumer products companies. Companies using Quofore solutions are able to drive competitive advantage through their management and execution of field sales, merchandising, promotion, and direct delivery activities. Incorporating world's best practice, Quofore solutions reflect the experience and domain expertise gained from over a decade of specialized industry focus, working with customers in more than 20 countries in both modern trade and emerging markets. Quofore markets its software worldwide through its regional offices in the Americas, EMEA and the Asia Pacific region, and works closely with its partner ecosystem to service and support its customers worldwide. Quofore has delivered solutions to customers across six continents including leading global corporations such as Procter & Gamble, Cadbury, Brown-Forman, Dyson and Black & Decker, as well as numerous small to midsize companies. For more information, visit http://www.quofore.com.
###