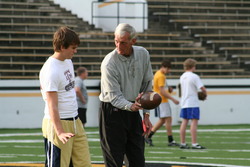 "Most athletes do not have a coach or anyone that knows how to teach them," says Ray Guy- NFL Legend and 75th Anniversary All-Time Team member. "We teach athletes to be self-reliant and to start taking charge of their own skill development."
Ashland, KY (PRWEB) April 16, 2010
Personal evaluations of the camp attendees are provided and information on top prospects will be made available to every college football program in the nation for recruitment and scholarship opportunities. The prokicker.com exclusive national ranking system remains the most trusted source of information for college coaches around the country.
There are 605 alumni on college rosters and 18 alumni active on NFL rosters. There is no other camp program even close to having more players who have earned scholarships to colleges or who are actively playing professional football. There have been three Lou Groza Award winners and numerous named to All-America teams. A total of 111 Prokicker.com Alumni were on rosters in all 34 2009-10 College Bowl games, including the Alabama-Texas BCS Championship.
Applicants must pre-register to ensure acceptance. Due to the overwhelming number of requests for each camp enrollment is limited and exclusive to insure individual attention to each participant. City locations below:
Albuquerque, NM; Anchorage/Chugiak, AK; Atlanta, GA; Augusta/Thomson, GA; Austin, TX; Birmingham, AL; Boise, ID; Boston/Worcester, MA; Bowling Green, KY; Amarillo/Bushland, TX: Charleston/Summerville, SC: Charlotte, NC; Chicago, IL; Cincinnati/Dayton, OH; Columbus, OH; Dallas/Arlington, TX; DeKalb, IL; Denver/Colorado Springs, CO; Detroit, MI; Dover, DE; Ft. Thomas, KY; Hattiesburg, MS; Houston, TX; Huntington, WV; Indianapolis, IN; West Lafayette, IN; Jacksonville, FL; Kansas City, MO: Knoxville, TN; Los Angeles, CA; Louisville, KY; Memphis, TN; Minneapolis/St. Paul, MN; Nashville, TN; New Orleans, LA; Oklahoma City, OK: Philadelphia/Bethlehem, PA: Pittsburgh, PA; Raleigh/Elon, NC; Salem/Portland, OR; Salt Lake City, UT; San Antonio, TX; San Francisco, CA; Seattle/Tacoma, WA; St. Louis, MO; Syracuse, NY; Tampa/Bradenton, FL; Virginia Beach, VA; Washington DC
To register, contact prokicker.com, P.O. Box 1884, Ashland, Ky., 41105-1884, or download a form at http://www.prokicker.com Please call 606-327-0051 for more information.
For media requests contact Camp Director Rick Sang at 606-327-0051.
—Prokicker.com—
###