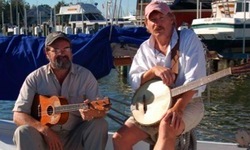 Corporate Apartment Specialists is passionate about the environment and the Bay in particular
Arlington, VA (PRWEB) April 16, 2010
Corporate Apartment Specialists, Inc. (CAS), an Arlington, VA-based corporate housing company, is the main corporate sponsor of two half-hour documentaries entitled "Seize the Bay: The Ultimate Survival Guide to the Land of Pleasant Living". The segments will help bring to a close Maryland Public Television's Chesapeake Bay Week April 18 – 25.
The documentaries are the work of Severna Park, MD filmmakers Bob and Daphne Ferrier. Bob and Daphne have produced programs for National Geographic, PBS, the Smithsonian, The Discovery Channel and The Learning Channel. This is the Ferriers' first project through their own production company, Backfin Media Group and is very close to their hearts. Ned Scharpf recently spoke about CAS' involvement in this project: "Corporate Apartment Specialists is passionate about the environment and the Bay in particular."
Scharpf added: "This is a special project. Daphne and Bob's work focuses on the wonders of the Bay rather than solely on the myriad of challenges facing the Bay. Seize will remind people about many of the simple joys derived from life on the Bay rather than scaring viewers into action as so many other documentaries have striven to do." The two segments air on MPT at 7pm on Saturday, April 24th.
CAS, founded in December, 1995, is a leading provider of short-term furnished apartments in the Washington Metropolitan area. 2009 revenues were 3.8 million dollars. CAS' customers consist primarily of consulting, state department, and embassy staff as well as other commercial clientele coming to the Washington area on short-term assignment. CAS also serves many homeowners who are between homes for numerous reasons.
Corporate Apartment Specialists, Inc. specializes in leases of one to twelve months; all apartments are fully furnished with all utilities, telephone, cable and housewares such as linens, towels, pots, pans, utensils, coffeemaker, etc. included. CAS has corporate apartments in over thirty locations throughout the Washington Metropolitan Area. Efficiencies start at $2,190, one bedrooms at $3,090 and two bedrooms at $3,890. For further information, call Tania Odabashian at (703) 979-2830 or visit the CAS website at http://www.CorporateApartments.com or visit http://www.seizethebaynow.com.
###