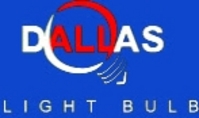 We are a quality verses quantity company
Dallas, TX (PRWEB) April 16, 2010
Dallas Light Bulb Delivery and Victory Lighting Services, sister companies – distribution and service -- well-known Dallas-based organizations, have just announced stepped up efforts in their sales and marketing department, starting with the hire of Rebecca Baker, Marketing Director.
"We are going to light up this industry," says Baker, "with a non-traditional industry web design, email blasting, Twitter, blogging, Facebook and so much more. All of the marketing will have an agency look, which is something different for this industry." She has already redesigned print sales pieces and plans to complete the company's web site redesign mid-April. "Those companies that think they are competition won't know what hit them," says Baker. "We will stand out from the pack." Baker plans on marketing the two companies individually, as well as implementing joint marketing and co-op advertising with vendors. This will be the first time that Dallas Light Bulb Delivery and Victory Lighting will be marketed together.
Rebecca Baker once owned The Baker Group, Advertising and Public Relations, which was known for synergizing communications messaging to help companies establish stronger branding. In addition to revamping the DLB and Victory Lighting Services' marketing, Baker is in charge of training a new, all-female sales team, another nontraditional standard for the lighting industry.
"We didn't plan on hiring all women, it just ended up that way," says Lisa Hughes, one of the owners of DLB & Victory Lighting Services, "and the new marketing reflects our corporate culture better. We are a quality verses quantity company, even though we deal in a commodity product (light bulbs)."
Dallas Light Bulb Delivery was established in 1982, and was purchased by Victory Lighting in 2001. DLB was added as the distribution arm of the organization. The owners of DLB & Victory Lighting Services started Victory out of their garage in 1995. Victory Lighting Services has grown to service companies like Chase, Minyards, Walmart, Pro-logis, and other big names. "With both distribution and service, we offer quality controlled, turn-key services for almost any commercial lighting situation," says Hughes.
Dallas Light Bulb Delivery and Victory Lighting Services are located at 2505 Willowbrook, Dallas, TX 75220. Phone: 972-241-2852 (BULB) or 1-800-458-8369. Dallas Light Bulb Delivery is an authorized dealer for G.E.,TCP, Sylvania, Philips, Hubbell, Metalux, Higuchi USA, Ushio and other brand products.
# # #