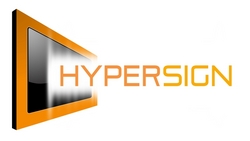 HyperSign was recently awarded the "Most Innovative DS product of 2010"
Duncan, SC (PRWEB) April 19, 2010
CQ Media Networks, a S.C.- based technology development company announced today that its award winning digital signage service now includes the ability for its subscribers to create fully interactive signage at no additional cost.
HyperSign was recently awarded the "Most Innovative DS product of 2010" rAVe Publications and at the moment of the award, the interactivity feature was not announced. The award showcased the ease of use of HyperSign and how ANYONE could be an author of digital signage content. CQ Media says its software-as-a-service (SaaS) product simply and seamlessly delivers HD-quality content to multiple endpoints and can be deployed in minutes, not hours or days like other similar products.
"We are extremely stoked about the interactivity feature of HyperSign. We were able to maintain the easy to use workflow currently enjoyed by HyperSign subscribers and allow them to create interactive content with no additional learning curve. Even with this additional feature we maintain the ability for anyone to create interactive signage in just minutes, making it truly the easiest signage application on the market." says Neil Willis, CEO of CQ Media Networks.
The HyperSign Interactive feature can be contained within a "dropzone" or can consume the entire display. HyperSign's interactive feature can be used with touchscreen flat-panel displays or projection surfaces with touch sensitive interactivity. It is currently compatible with Microsoft Windows XP (R) and Vista (R) although a Linux version will be available early this summer.
###