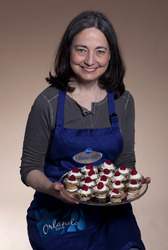 We're thrilled that one of our ShopRite customers triumphed in this contest. It is so nice to see good things happen to good people
Keasbey, NJ (Vocus) April 15, 2010
ShopRite is pleased to announce that one of its loyal customers, Sue Compton of Delanco, NJ, has been chosen as the Grand Prize winner in the 44th Pillsbury Bake-Off Contest. Ms. Compton's one-of-a-kind Mini Ice Cream Cookie Cups (see recipe below), made with ingredients purchased at the ShopRite of Delran, NJ, won her the $1 million Grand Prize, announced live during today's "Oprah Winfrey Show" in Chicago.
As winner of the "Sweet Treats" category, Ms. Compton has already won $5,000 and a GE Profile Induction Free-Standing Range. Her delicious dessert faced off against the winners of the other three categories – "Breakfasts & Brunches" (Tomato-Basil Eggs Alfredo in Bread Baskets), "Entertaining Appetizers" (Salmon-Pecan Crusted Tartlets) and "Dinner Made Easy" (Zesty Lime-Fish Tacos) – in the quest for the Grand Prize of $1 million, plus an additional $7,000 in GE Profile kitchen appliances.
ShopRite executives were on hand to cheer on Ms. Compton at the competition. "We're thrilled that one of our ShopRite customers triumphed in this contest. It is so nice to see good things happen to good people," said Karen Meleta, ShopRite spokesperson. "She is an inspiration to us all – her passion for baking has really paid off. Her recipe is an example of elegant simplicity, achieved with just a few easy-to-use ingredients that can be found in any ShopRite store. I'm sure this experience will create lasting memories for Sue and her family and we congratulate her on her success."
Pillsbury received more than 10,000 entries in this year's contest. The four finalists are chosen based on taste, appearance, creativity and how the recipe will appeal to families across America.
Mini Ice Cream Cookie Cups
Prep Time: 20 min.
Total Time: 45 min.
Makes: 45 tartlets
Ingredients
1 package (16 oz) Pillsbury® Ready to Bake!™ refrigerated sugar cookies (24 cookies)
4 teaspoons sugar
1/3 cup Fisher® Chef's Natural® Chopped Walnuts, finely chopped
1/2 cup Hershey's® semi-sweet chocolate baking chips
1/4 cup Smuckers® Seedless Red Raspberry Jam
1 1/2 cups vanilla bean ice cream, softened
24 fresh raspberries
Directions
1. Heat oven to 350°F. Spray 24 mini muffin cups with Crisco® Original No-Stick Cooking Spray. Place 1 cookie dough round in each muffin cup. Bake 15 to 20 minutes or until golden brown.
2. Place 2 teaspoons of the sugar in small bowl. Dip end of wooden spoon handle in sugar; carefully press into center of each cookie to make 1-inch-wide indentation. Cool completely in pan, about 20 minutes.
3. Meanwhile, in small bowl, mix walnuts and remaining 2 teaspoons sugar; set aside. In small microwavable bowl, microwave chocolate chips uncovered on High 30 to 60 seconds, stirring after 30 seconds, until smooth.
4. Run knife around edges of cups to loosen; gently remove from pan. Dip rim of each cup into melted chocolate, then into walnut mixture. Place walnut side up on cookie sheet with sides.
5. In another small microwavable bowl, microwave jam uncovered on High about 15 seconds until melted. Spoon 1/2 teaspoon jam into each cup. Freeze cups about 5 minutes or until chocolate is set.
6. Spoon ice cream into cups, using small cookie scoop or measuring tablespoon. Top each cup with fresh raspberry. Store in freezer; let stand at room temperature 5 minutes before serving.
About ShopRite
ShopRite is the registered trademark of Wakefern Food Corp., a retailer-owned cooperative, based in Keasbey, NJ and the largest supermarket cooperative in the United States. With more than 200 ShopRite Supermarkets located throughout New Jersey, New York, Pennsylvania, Connecticut, Delaware and Maryland, ShopRite serves more than five million customers each week. A long-time supporter of key community efforts, ShopRite is dedicated to fighting hunger in the communities it serves. Through its ShopRite Partners In Caring program, ShopRite has donated more than $22 million to 1,500 worthy charities and food banks since the program began in 1999. As a title sponsor of the LPGA's ShopRite Classic, ShopRite has raised more than $22 million for local schools, hospitals and community groups.
###