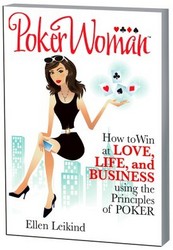 The principles of poker can transform any woman into a more confident, powerful person, even if she's never shuffled a deck of cards.
New York, NY (PRWEB) April 15, 2010
There's nothing like spring to energize the spirit, inspire new ideas and encourage fresh starts. For women job seekers it's the perfect time to rework a resume, revamp professional goals, create a new game plan, and think outside the box. Fortune 500 marketing executive and poker strategist Ellen Leikind recommends a bold new approach to job-seeking in her new book PokerWoman: How to Win at Love, Life, and Business using the Principles of POKER.
According to Leikind, who holds an MBA in marketing, there are valuable career-boosting lessons to be learned through poker. "To land a job in this economy," says Leikind, "women need to make the most of the 'chips' they have, use their female intuition, up their interview ante, take risks and play to win." Leikind advises that whether you are an entry level college grad, a business school MBA, or a seasoned professional, "the lessons learned in poker can transform anyone into a more confident, powerful person."
In her new book, Leikind outlines a game plan in which women job seekers can harness the psychological and strategic skills of poker to build more confidence and to gain a competitive edge in a tough job market. The author observes, "In poker and in life women tend to play more passively; they try to avoid losing rather than playing to win. Women need to project more bravado, and poker strategies can help them do that."
In addition to writing PokerWoman, Leikind is also the founder of POKERprimaDIVAS®, a company that offers corporate programs and entertainment to teach women how to play poker and apply the game's principles to enhance all aspect of their lives. http://www.pokerdivas.com. She is also one of New York City's premier poker coaches, teaching classes at the 92nd Street Y and giving private poker lessons to top VIP's in New York's financial, legal and media communities.
PokerWoman contains compelling real-life anecdotes from women who have taken Leikind's courses and applied the author's winning poker strategies to get a job, a promotion, a raise, or a rewarding relationship. Says Leikind, "The worst thing you can do is nothing. Fear of losing is a poker player's or a job-hunter's biggest enemy."
Leikind's book imparts her unique poker wisdom, which includes the following tips:

Stack the deck in your favor – before an interview, research everything you can about a company and its business philosophy/workplace style.
Perfect your poker face (with or without Botox!) – avoid looking desperate or needy.
Look the part; land the job – image is power, so project an aura of confidence.
Sell yourself with creative bluffing but never flat-out lie. Tell your story, emphasizing compelling reasons why you are "uniquely qualified" for the opportunity.
Toughen up your skin and learn to take criticism – don't let your emotions undermine your intelligence.
Stay alert, in control, and on message in order to keep the interview moving in a positive direction.
Use your innate female intuition to read "tells" – the non verbal cues your interviewer may be giving off.
Don't let one bad interview rattle you. Remember a key poker rule: there's always another game (or interview!).
Stop apologizing for gaps in your resume (it makes you sound like a loser).
In poker and in life, down doesn't mean out. Overcome a job loss by gathering up your "chips" and getting back in the game.
PokerWoman: How to Win at Love, Life, and Business using the Principles of POKER is a 208-page hardcover book published by Mary Ann Liebert, Inc., a privately-held integrated media company. It is available for $24.00 at http://www.Amazon.com.
For more information or to schedule an interview with author Ellen Leikind, contact: Antoinette Fitapelli at 917-294-2571 -or- Linda Mann at 212-675-0100.
###