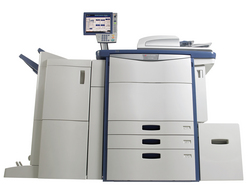 Toshiba is so pleased that once again the imaging product end-users and resellers have awarded so many top honors to Toshiba in the prestigious BERTL survey
Irvine, California (PRWEB) April 15, 2010
Toshiba America Business Solutions Inc. (TABS) is proud to announce that it has captured four awards in the 2010 BERTL Readers' Choice Awards, including Total Solution Provider in the Overall Manufacturer Award Division. Additional awards include: Environment Sustainability, Workflow Integration and Output Quality for the Toshiba e-STUDIO5520c/6520c/6530c series.
"Toshiba is so pleased that once again the imaging product end-users and resellers have awarded so many top honors to Toshiba in the prestigious BERTL survey," said Joseph Contreras, director, Product and Solutions Marketing, TABS. "Toshiba has always been dedicated to being a total solution provider for our customers with best-in-class products, solutions and customer service. These recent awards reflect that commitment."
According to a statement from Art Wynne, president, BERTL: "It is no surprise that our readers selected Toshiba's e-STUDIO6530c to win these prestigious awards. This gives validation to the BERTL Five-Star Exceptional and BERTL's Best rating our analysts gave this device upon their extensive product testing."
About BERTL
The Business Equipment Research and Test Laboratories Inc., (BERTL) is an independent testing laboratory whose purpose is to provide objective, independent product evaluation reports and comparative analyses on imaging devices and software solutions. BERTL prohibits any manufacturer-control over its product evaluations, and bases its opinions, ratings and awards on a combination of rigorous analysis and worldwide customer satisfaction research. To learn more about BERTL, visit http://www.BERTL.com or telephone (973) 882-0200.
About Toshiba America Business Solutions Inc.
Toshiba America Business Solutions Inc. (TABS) manages product planning, marketing, sales, service support and distribution of copiers, facsimiles, multifunction printing products, network controllers, and toner products throughout the United States, Mexico, Brazil, Latin America, and the Caribbean. Headquartered in Irvine, Calif., TABS has five divisions: the Electronic Imaging Division; the Toner Products Division; the Document Solutions Engineering Division; the International Division; and Toshiba Business Solutions (TBS), a wholly-owned subsidiary corporation of TABS, that operates a network of wholly-owned office equipment dealers throughout the United States.
Named the most favored manufacturer ten times by the Business Technology Association (BTA), Toshiba's entire product line, customer support and marketing distribution policies are markers for the industry. Among the many other awards garnered in recent years, Toshiba was named the "Manufacturer of the Year" eight times by Marketing Research Consultants (MRC), and has twice been named to the CIO 100 for being among the top 100 "bold" (2008) and "agile" (2004) companies in the world.
TABS is an independent operating company of Toshiba Corporation, the seventh largest electronics/electrical equipment company and the world's 97th largest company in terms of sales. Ranked by Fortune magazine as the eighth Most Admired Electronics Company in the World, Toshiba Corporation is a world leader in high technology products with more than 300 major subsidiaries and affiliates worldwide. Fiscal year revenue in 2008 was approximately $67.9 billion.
For more information on Toshiba copiers, facsimiles, multifunction printing products, network controllers or toner products, or for a dealer in your area, call (800)-GO-TOSHIBA or visit the TABS website at copiers.toshiba.com.
###