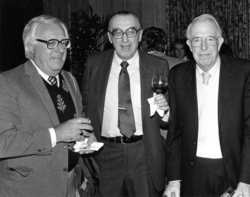 We are finding some incredible photos that we did not know we had, such as a shot of Ray Bradbury, A.E. van Vogt and Jack Williamson, three of science fiction's greatest authors, at Chasen's Restaurant in Beverly Hills for the Contest's first Awards event
Los Angeles, CA (PRWEB) April 14, 2010
In commemoration of its first 25 years, the production of a special edition coffee table book for L. Ron Hubbard Presents Writers of the Future was announced by John Goodwin, President Galaxy Press, the publisher for the silver anniversary edition. http://www.writersofthefuture.com
This volume will cover each of the 25 years of the Writers Contest, listing all the winners and those who have gone on to successful writing careers. "There is a vast amount of material to comb through in putting this volume together," stated Goodwin. "We are finding some incredible photos that we did not know we had, such as a shot of Ray Bradbury, A.E. van Vogt and Jack Williamson, three of science fiction's greatest authors, at Chasen's Restaurant in Beverly Hills for the Contest's first Awards event."
The book is being edited by Kevin J. Anderson, a contest judge for Writers of the Future and a multiple NYT bestselling author. Daily video updates are being posted at http://www.youtube.com/writersofthefuture as well as the contest blog (http://wotfblog.blogspot.com) documenting the steps being taken to create this volume.
Galaxy Press is looking for news of winners who have gone on with careers in publishing and illustration. They can go to the Writers of the Future blog at http://wotfblog.blogspot.com/ and post a comment with news or sending their information to contests(at)writersofthefuture(dot)com. Regular updates on the special edition will be posted on the blog.
Acknowledged as the premiere writing contest of its kind, the Writers of the Future Contest was created in 1983 by best-selling author L. Ron Hubbard as a means for aspiring writers to have their works seen and acknowledged. The success of the original writer's competition gave rise to the companion Illustrators of the Future Contest. As it has always been, there are no entry fees for the contests.
In addition to substantial cash awards, the contest winners and selected finalists are showcased in an annual anthology published by Galaxy Press, and are flown out to participate in an expenses-paid week-long workshop led by professional published writers and illustrators.
For more information, go to http://www.writersofthefuture.com or http://wotfblog.blogspot.com/.
# # #