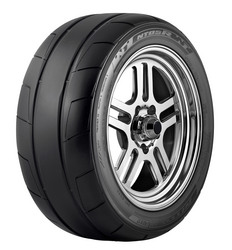 "The Nitto NT05 is a great tire; it's incredibly consistent and has tons of grip. They give me the confidence to drive the car at the limit, sideways, next to walls."
Cypress, CA (PRWEB) April 15, 2010
Nitto Tire dedicates itself to supporting grassroots motorsports and the racing industry. As part of its continued effort, Nitto plans to showcase two of its drifting teams at the IZOD IndyCar Pit Stop Challenge's Drift Car Exhibition. The event will be held this Thursday, April 15, 2010 at 6 p.m. outside the historic Kodak Theater in downtown Los Angeles. The drifting exhibition will be held on the famous Hollywood Boulevard, which will be closed down for this special event.
Drifting is a professional exhibition sport where drivers intentionally take their vehicles to the edge of control in order to slide sideways through a series of pre-defined turns. Once a drift is initiated, the driver "steers" through the turn not only with his steering wheel but also by modulating the gas and brake pedals. This causes the tires to loose and re-gain traction in rapid succession and propel the vehicle sideways. In competition, drivers are awarded points for their line, angle, speed and artistic performance. As with most motorsports, faster is better. Perhaps most impressive is artistic performance. This is a combination of factors, some of which include the amount of tire smoke and the engine noises the vehicle produces, how close the driver comes to the barrier wall (again, closer is better) and the crowd's cheers and interactions.
At the IZOD exhibition, Nitto will showcase two drivers, Joon Maeng of Bergenholtz Racing who campaigns a Mazda RX-8 and Michael Essa who campaigns a brand-new BMW 335i. At the core of Maeng's RX-8 is a custom tri-rotor 20B engine, which was built by Mazdatrix. The engine was fully ported and tuned before being powered by a custom-matched turbocharger. The end result is a 600 whp RWD powerhouse with a rotary engine scream. Essa's BMW 335i received a major upgrade during the off-season. Replacing the stock in-line six motor, is a more powerful V10 powerplant pulled from the BMW M5. The motor was specifically built for drifting and required Essa to reroute piping and parts throughout the engine bay. As a result of the swap, Essa has dubbed his vehicle a BMW 350R.
Both teams will use Nitto's NT05 max-performance radial. The NT05 was created using advanced computer simulation and extensive on-track testing. The result is a tire that provides precise and responsive handling and performance, which are needed for the grueling demands of drifting. When asked about the tire's performance in drift Maeng replied, "In drifting it is crucial to have tires that can handle harsh driving conditions. The NT05s provide plenty of traction and predictability." Essa added, "The Nitto NT05 is a great tire; it's incredibly consistent and has tons of grip. They give me the confidence to drive the car at the limit, sideways, next to walls."
See Nitto, the NT05 and both sponsored teams in action at the IZOD drift exhibition this Thursday evening, April 15, 2010. For more event details, visit http://www.RaceToTheParty.com.
Nitto Tire develops performance tires for all uses, including racing, off-road and street. Using state-of-the-art manufacturing and testing facilities in both Japan and the United States, Nitto provides innovative and high-quality performance tires for the most demanding automotive enthusiasts. For more information about Nitto or its products, visit the company's web site or contact the company directly. Nitto and Fueled by Enthusiasts are registered trademarks or trademarks of Nitto Tire U.S.A. Inc., located at 6021 Katella Ave., Ste 250, Cypress, CA 90630.
###