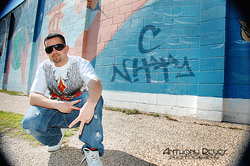 Bringing hip hop back 2 its roots with a touch of class!
Midland, TX (PRWEB) April 29, 2010
Anyone with there ear to the street in the south has heard about C Nitty and his Label Clean Cut Entertainment. For those who don't, it wont be long now. With a resume of songs that include rap legend Bun B, an expert in the field, and other southern stars such as Devin the Dude, Trae the Truth , Chops, Billy Cook, Cory Mo, C Nitty proves himself a force to be reckoned with a promising future in the game.
After years of recording underground in Texas with local artists, C Nitty has finally found a way to fuse blues, R&B, rap, & alternative together for distribution to the mainstream without selling out or compromising the integrity of the music.
This did not come without paying dues or making sacrifice. It would be an understatement to say he has a lot on his plate right now, including a deal on the table from Warner Bros Music group, but as of now remains independent. His newest release, the Clean Cutz include radio versions of songs on his debut album, The Kolor Purple released earlier in the year, plus previously unreleased radio versions of Clean Cut's new album, Sterilization ft, a song produced by Chops (If you wanna ride with me), featuring the Nappy Roots from upcoming album set for release in 2010.
C Nitty has been just as creative with the business side of the industry as the actual artistry, such as putting into production Clean Cut entertainment's own bar of soap and personalized shaving kits. For more information on Clean cut entertainment or C Nitty go to http://www.myspace.com/cnitty1.
###