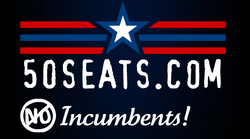 The activists we work with and represent are ready, willing and able to volunteer for campaigns, contribute to our efforts when the time comes, and strongly oppose the campaigns of incumbents in general elections
Las Vegas, NV (PRWEB) April 15, 2010
The group that operates TaxDayTeaParty.com and is considered by many to be a major "electoral activism" arm of the tea party movement today announced its full list of targeted races, both House and Senate, for the 2010 election cycle.
Liberty First PAC, a committee of tea party organizers and activists, launched a website located at http://www.50seats.com that lists all 50 of the seats it plans to be involved in this year. The PAC plans to be politically active in all 50 races, and is currently training activists for get-out-the-vote efforts and electoral activism.
The PAC raised just under $50,000 in the first quarter of 2010, and says it's on track to at least triple that number in the second quarter. The committee will use the funds for marketing campaigns in opposition of incumbents, and has already begun utilizing independent expenditures in opposition to Harry Reid in Nevada.
On April 26th, 2010, the PAC will begin a $5,000 marketing campaign in support of Charles Djou for Congress in Hawaii's special election next month, and the committee has plans to immediately jump into a dozen more races beginning as soon as May.
Unlike other groups who focus almost entirely on fundraising, Liberty First PAC is looking to arm races with grassroots volunteers and will make this effort one of its biggest objectives.
"The activists we work with and represent are ready, willing and able to volunteer for campaigns, contribute to our efforts when the time comes, and strongly oppose the campaigns of incumbents in general elections," said Eric Odom, Chair of the PAC. "We're seeing serious momentum starting to build, and we believe we'll be able to put together groups of campaign volunteers in all targeted races."
Liberty First PAC has only endorsed in a handful of elections, and has no plans to get involved in any primary elections that it has not already endorsed in. The committee is in place primarily to oppose incumbents in the 2010 general elections.
###