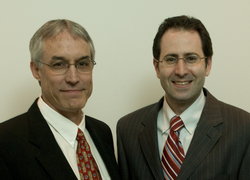 In the United States, it's very easy for patients to investigate success rates for all fertility clinics.
Gurnee, IL (PRWEB) April 15, 2010
According to the newly released Society for Assisted Reproductive Technology (SART) 2008 IVF success rate report, the Advanced Fertility Center of Chicago's egg donation program achieved a 79% live birth rate per embryo transfer in 2008 -- a rate 43% higher than the national average of 55%.
"This is the highest success rate our egg donor program has ever achieved, thanks to incremental improvements that we made over the course of many years," says AFCC Medical Director Richard Sherbahn, MD, a board certified reproductive endocrinologist and infertility specialist. "And our in vitro fertilization program live birth rate of 57% per egg retrieval in women under age 35 is also significantly higher than the national average success rate of 45%.
"In the United States, it's very easy for patients to investigate success rates for all fertility clinics," Dr. Sherbahn explains. "The SART report is released on the web every year and is available to the public. Each clinic has its own listing page showing its live birth success rates." SART is an organization dedicated to the practice of IVF in the U.S.
"The Centers for Disease Control (CDC), a U.S. government agency, also reports fertility clinics' IVF success rates each year," he adds. "By law, every U.S. fertility clinic must report its success rate data annually to the CDC. Not many consumers are aware of this government report.
"The SART and CDC reports give consumers two central sources for clinic success rates for IVF and egg donation," says Dr. Sherbahn. "These reports are excellent, and both are available to the public on the web. The main difference between the reports is that the government's CDC report on IVF clinic success rates is more comprehensive -- but it is released about a year later than the corresponding SART report."
"When fertility clinics report their success rates each year, SART verifies the data -- and any member clinics that don't report their data will be dropped from the organization," he explains. "A non-reporting clinic is a big red flag, unless they're brand new."
Reproductive endocrinologist and infertility specialist Todd Deutch, MD, attributes AFCC's high success rates to the use of the latest technology combined with exceptional patient care. "We work hard to give each patient individualized care," he explains.
AFCC patient Gail, age 40, and her husband are now the proud parents of twin boys, thanks to IVF with donor eggs. "This has been a seven-year journey for me and my husband," she explains.
AFCC is the third fertility clinic where Gail has received treatment. Before coming to AFCC, she had two natural miscarriages, then six failed artificial insemination attempts and four IVF cycles -- the first of which resulted in another miscarriage.
"At AFCC, we chose egg donation for the best chance of success," Gail recalls. "On our first IVF cycle, they implanted two embryos -- and now we have twins!
"At AFCC, they were so wonderful in dealing with the emotional piece, which is pretty rare," she says. "Unfortunately, we were veterans of the fertility world.
"Fertility patients are very vulnerable," Gail explains. "When we were pregnant, they knew our history of losses. And Dr. Sherbahn said, 'We're going to do an ultrasound to establish that you are pregnant and that everything is OK. And you can come back every week for an ultrasound if you want.'
"There's something very reassuring about seeing that fetal heartbeat," says Gail. "We took them up on their offer -- we were there for an ultrasound every week until the second trimester.
"At the other clinics, they gave me a six-week ultrasound, patted me on the head and said, 'Ok, good luck. Bye bye.' And that was it.
"Unfortunately, our history was having a six-week ultrasound where everything was fine -- and then going for the eight-week ultrasound with the OB and finding no fetal heartbeat. Being able to see our babies' heartbeats every week did wonders for us.
"AFCC is so thorough," says Gail. "They actually administer the medication to the egg donors, unlike at other clinics -- to ensure that the egg donor is getting the right dosage at the right time.
"When we went for the embryo transfer, Dr. Sherbahn gave us a picture of both embryos and talked about the science of why he chose those particular embryos. No doctor had ever been that thorough with us."
The Advanced Fertility Center of Chicago, with offices in Gurnee and Crystal Lake, Ill., offers advanced reproductive technology services such as in vitro fertilization, IVF.
The Center's egg donation program has proven egg donors available immediately, with no third-party egg donor agency needed.
IVF pricing and egg donation pricing plans are available with a money-back guarantee.
The Center's web site, http://www.advancedfertility.com, offers more than 250 articles on fertility issues and IVF.
To schedule an appointment at the Gurnee office, call 847.662.1818.
For an appointment at the Crystal Lake office, call 815.356.1818.
A comparison of clinic success rates may not be meaningful because patient medical characteristics, treatment approaches and entrance criteria for assisted reproductive technology may vary from clinic to clinic.
###