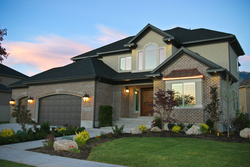 There's never been a better time to buy an Ivory Home and our new website and virtual tours make it incredibly simple to find the perfect home in any price range
Salt Lake City, Utah (PRWEB) April 16, 2010
Ivory Homes has strategically planned for a flurry of home buying activity as new home buyers look to take advantage of the federal Home Buyer Tax Credit deadline. First time home buyers can receive an $8,000 credit and repeat home buyers can receive a $6,500 credit on their 2009 or 2010 federal tax return. The home must be purchased by April 30th and the sale completed no later than June 30th. This special incentive created by the Worker, Homeownership, and Business Assistance Act of 2009 has made buying a new home affordable, even in tough economic times. Ivory Homes, http://www.IvoryHomes.com, has planned ahead to accommodate these new home buyers by having 100 homes in over 40 Utah communities ready for quick purchase.
These special homes, that are available for rapid sale and the $8,000 or $6,5000 tax credits, are found in numerous Ivory Homes communities in Salt Lake, Tooele, Davis, Weber, Utah, Wasatch, and Washington counties in Utah. The properties include condos and townhomes as well as single family estate homes with prices ranging from $150,000 to $750,000. Jim Dunford, Marketing Director of Ivory Homes, says, "It's a fantastic time to buy! Buying a home is more affordable now than it has been in a long time and the tax credits are only the icing on the cake. Even bigger than the tax credit are the incredible interest rates that can't stay this low for very long."
With a newly redesigned website, that showcases the 100 homes ready for quick purchase, Ivory Homes makes it easy for buyers who want to take advantage of this tax incentive to shop before even getting in their car. "Nothing beats walking through an Ivory Homes model," says Dunford. "The second-best option to visiting in person is viewing it on the Web. The virtual home tours found on our new website are available 24 hours a day from anywhere in the world by computer or smartphone - over 80 percent of new home buyers are now finding their homes on the Web."
The new Ivory Homes website allows new home buyers to select their price range, community, style of home, square footage, number of bathrooms and bedrooms, and even enter a desired zip code, to find a new home that is ready for quick purchase before April 30th. Many of the homes pictured on the website under the "Quick Move-In" navigation button also have a virtual tour link; saving buyers time as they search for their "dream home". With time running out to take advantage of the federal Home Buyer Tax Credit, being able to "visit" a prospective home by using the virtual tour option is helping to quickly match buyers with these special homes.
Home buyers who have already completed their 2009 tax forms and purchase a home in the specified time frame may still take the $8,000 or $6,500 tax credit by filing an amended 2009 tax form or by taking the tax credit on their 2010 taxes. For more detailed information on the Home Buyer Tax Credit visit http://www.federalhousingtaxcredit.com/home.html. By planning in advance and building for the future, Ivory Homes has already helped hundreds of Utah residents this year buy a new home and get a significant tax credit.
For additional information on the new homes that Ivory Homes has available for purchase using the special new Home Buyer Tax Credit program, please contact Jim Dunford, Marketing Director, or visit http://www.IvoryHomes.com. There are income limitations to receiving either the new home owner or repeat home owner tax credits. Sales contracts must be signed by April 30, 2010 with the home purchase completed by June 30, 2010 in order to be eligible to receive this special federal tax credit useable in 2009 or 2010.
About Ivory Homes:
Ivory Homes is Utah's number one home builder in number of homes built, quality delivered, and in customer service. They have retained this prestigious ranking for the last 23 consecutive years. Ivory Homes has over 40 home developments located along the Wasatch Front and St. George. As the premier home builder in Utah, Ivory Homes focuses on customer satisfaction in all they do.
###