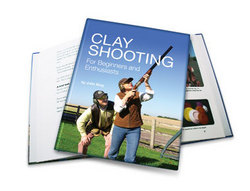 "After being repeatedly asked for a book that avoided unnecessary technical data and provided essential information in a simple to follow style – I had to produce a second edition of the book to keep shooters up-to-date!" Author John King
(PRWEB) April 16, 2010
It's been almost 20 years and some 30,000 pupils since John King, Clay Shooting Association Senior Sporting Coach, penned his first clay shooting book.
This year he has launched a second edition of the 1991 book "Clay Pigeon Shooting for Beginners & Enthusiasts" and a fantastic clay target shooting DVD "Clay Shooting from Scratch" which features shooting lessons with celebrities.
The book features a course of clay shooting lessons typically undertaken by an adult complete beginner in plain concise language. The comprehensive but simple-to-follow text is strongly supported by professionally drawn diagrams and high quality prints. This modern, clay pigeon shooting instruction guide will be a must have in the library of books for every clay target shooter.
In the 90 minute DVD "Clay Shooting from Scratch", learners can share shooting lessons with popular TV presenter Zoe Salmon and Olympic Gold medallist athlete Iwan Thomas MBE. The series of clay pigeon shooting lessons that you will share with the Stars are fast-paced and full of fun but most importantly, provide the essential information that anyone learning to shoot needs to know. Watch the DVD preview here.
World-renowned coach and author John King said: "After being repeatedly asked for a book that avoided unnecessary technical data and provided essential information in a simple to follow style – I had to produce a second edition of the book to keep shooters up-to-date!"
"The DVD is great fun and gives any budding shooter the vital information."
The newly re-launched website also features The Gun Room - an in-depth article section covering top tips from leading coach John King. Readers can learn how to approach their first shoot, gain advice on buying a Clay Shooting gun and can even find out top-secret tips on avoiding shot gun recoil.
Both products are available at http://www.johnkingcoaching.co.uk. Clay Shooting for Beginners & Enthusiasts is £19.99 and Clay Shooting from Scratch is £24.99.
###