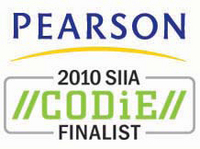 New York, NY (PRWEB) April 15, 2010
Pearson, a global leader in education, education technology, and services, today announced that myWorld Geography has been selected as a finalist in the 2010 Software & Information Industry Association (SIIA) CODiE Awards. The innovative digital environment is a finalist in both the Best Social Studies and Best Education Community Solution categories.
Established in 1986, the CODiE Awards celebrate outstanding achievement across the software, digital information and education technology industries. Nominated products underwent an intensive review by subject matter experts, analysts, journalists and others with deep expertise in education technology.
myWorld Geography helps today's adolescents learn by "doing" and stay motivated to learn through interactive, digital communications. The program enables students and teachers to explore the world's geography and history through "myStory" ambassadors, real teens from around the world chosen by Pearson's social studies authors along with journalists from the Financial Times to serve as representatives for each region covered in the digital and print chapters of the standards-based geography program. These "myStory" features include illustrated stories and videos to provide American students with the opportunity to make real-life and enduring connections to all aspects of the curriculum.
myWorld Geography also expands students' social studies skills beyond mapping and graphing by integrating 21st century learning, like innovation, collaboration, information, and media and technology skills, into the print and digital components.
"myWorld Geography is the first program of its kind for a digital, networked generation of middle school students, and we are honored to be named a CODiE finalist," said Michael Gee, Pearson Vice President for Social Studies. "Research into how adolescents learn points to engagement as a key factor, to spark interest and also to create a framework for learning and application. Through myWorld Geography, students connect to the content through video stories of teens from around the world, experience it in an interactive and immersive environment, and apply their learning though digital and collaborative activities."
Overall, Pearson had 13 education finalists this year, leading the prestigious competition.
Pearson's innovative ed-tech solutions for schools, colleges and universities are recognized across the awards program's education categories, honoring the company's worldwide leadership in harnessing technology to personalize and improve learning. Pearson's 13 finalists were chosen from more than 327 education nominations submitted by 124 companies.
In addition to myWorld Geography, the company's products moving on to the next round of competition are Miller & Levine Biology™ Digital Path; CourseConnect™; eCollege (now known as Pearson LearningStudio); Mastering Platform; MathXL® for School; MyCourse; MyMathLab; MyWritingLab; Prentice Hall Literature Online (PHLitOnline) and PowerSchool.
In the next step of the CODiE Awards process, myWorld Geography will be voted on by the entire SIIA membership to determine the winners in each category. The 2010 CODiE Awards will be announced at the 2010 Ed Tech Industry Summit in San Francisco on May 24.
About Pearson
Pearson has global-reach and market leading businesses in education, business information, and consumer publishing (NYSE: PSO).
For more information, press only:
Lisa Wolfe, L. Wolfe Communications, 773-227-1049, lwolfe (at) lwolfe (dot) com
###