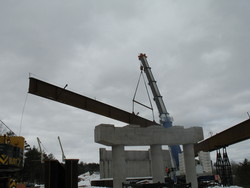 "The bridges themselves are of steel and concrete construction and with beams ranging from approximately 100 to 230 feet long, about 8 feet high and weigh in around 70 tons."
Parksville, NY (PRWEB) April 20, 2010
Burt Crane & Rigging has been sub-contracted by General Contractor, the Delaney Group, to erect 13 new bridge structures over environmentally sensitive areas, streams and existing local roads. The bridges, all part of the $94M Parksville Bypass Project, consist of a variety of pre-cast structures, simple span AASHTO girder spans, and single and multi-span steel girder/concrete deck superstructures. Longest pair of bridges consists of two 900 foot twin lane structures encompassing four spans.
According to Bill Scheib, president of Burt Crane & Rigging, "The interesting part of the project is that it entails multiple bridges in the same area, but each one comes with its own widely varying conditions." In discussing the bridges in particular, Scheib added, "The bridges themselves are of steel and concrete construction and with beams ranging from approximately 100 to 230 feet long, about 8 feet high and weigh in around 70 tons."
"Overall," Scheib continued, "the greatest challenge we face on this job is protecting the environment and keeping it in pristine condition. There is a stream that runs through the site that is environmentally zoned. Translated, what this means to us is that there is a huge 'Do Not Disturb' sign on that stream and we are not allowed to touch it in anyway, shape or form… which is a good thing, but a bit challenging at times!"
Mr. Scheib went on to say "We've been fortunate enough to have been working with Delaney for some 20 years now. There's a lot of trust there on both sides. They're a very professional group and have been very helpful and constructive in helping us set up the site, as have both Ed Mall and the D.O.T. staff. The D.O.T. in particular has been excellent in expediting our submittals and assisting us with compliance and specification issues."
Completion for this project to transform Route 17 into Interstate 86 is scheduled for late 2012.
###