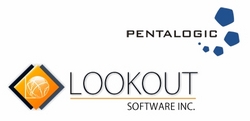 Although we work with a number of resellers LookOut is our first strategic partnership
Cheltenham, England (PRWEB) April 16, 2010
SharePoint specialists Pentalogic Technology and LookOut Software are pleased to announce the formation of a new Strategic Partnership in which Lookout will use Pentalogic's products to enhance the functionality of its SharePoint CRM template.
Vancouver-based LookOut has been in the CRM and sales force automation software business since 1994. In 2007 they made a corporate decision to convert their .NET CRM software to the SharePoint platform and have not looked back since. The CRM template uses SharePoint's "out of the box" functionality as a platform to deliver its multi-relational, simple to use and personalizable Customer Relationship Management application.
"SharePoint out of the box offers powerful functionality, but there are some things that it just doesn't do all that well," says Kerri Groves, LookOut's Business Development Director, "Alerts are one of the areas where we found that SharePoint OTTB functionality wasn't quite giving our customers what they needed, so we started to look for a 3rd party Alert product, and that's how we met the people at Pentalogic, who are based all the way over in Gloucestershire, England."
"Pentalogic's SharePoint Reminder offered so much more flexibility than SharePoint out of the box alerts. It's possible to send date-based alerts, reminders for due soon and overdue items but what really impressed me is just how easy it was to get started and the endless possibilities for simple workflows when combined with SharePoint views and filters which is just what our clients need to make our software even more valuable!"
"Taking the right action at the right time is key to effective customer relationship management, so finding the right Reminder tool was vital to us." says Kerri "It was just an added bonus to find that when we took a look at Pentalogic's other products we could immediately see how our customers could benefit from those as well."
"Pentalogic produces a SharePoint Planner webpart, which is going to be ideal for things like scheduling appointments and Sales Call Reports. Their PivotPoint is a terrific product that will be tremendous for creating dashboards and "live snapshots" of a variety of our SharePoint lists - most particularly Opportunity Management."
"Although we work with a number of resellers LookOut is our first strategic partnership" says Ryan Wheeler, Pentalogic MD "and we are already seeing benefits that go way beyond the financial."
"In the process of figuring out how our products are going to work together, LookOut is making us think about uses for our software that we had never even considered and spotting really obvious 'missing' features, which we would probably never have identified ourselves. In fact our first new feature release as a direct result of a suggestion from Kerri will be out next week - so we already owe LookOut a big vote of thanks."
"LookOut is currently launching their New Stakeholder Relationship Management template for SharePoint. This is the first SharePoint product of its kind on the market and we are really looking forward to seeing what uses they can find for our products in the Stakeholder & Issue Management arena."
Pentalogic SharePoint Reminder, Planner and PivotPoint for CRM Template are now available to all LookOut customers and both companies look forward to a long and successful SharePoint Partnership.
About Pentalogic Technology
Pentalogic Technology design software for use with Microsoft SharePoint. Founded in 2005 Pentalogic are one of the longest established companies in their marketplace. Pentalogic's developers have worked with SharePoint since its very earliest days. Pentalogic's small range of products are each carefully designed and continually developed to address a specific need for SharePoint End Users. The aim is that each product should be "best in breed" in its particular niche.
About LookOut Software
LookOut Software specializes in Relationship Management software development. Heralding from 15 years in software development, consulting, training, tech support and integration within the domain of Customer Relationship Management (CRM), LookOut took off globally when they transitioned to developing their applications to operate on the popular Microsoft SharePoint Platform. LookOut's most recent conversion from a .NET SaaS model to SharePoint's platform is the Stakeholder & Issue Management offered with Unlimited Users, Projects, Issues & Stakeholders.
###