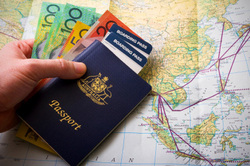 "There are some really good bargains on flights to Europe this time of year, so for budget-minded travelers, these tips can really help make the most of a "bargain" trip abroad" -Travel Editor, Scot Carlson
New York, NY (PRWEB) April 16, 2010
Fed up with the global recession? Forget all about it and visit one of the world's most wealthy cities where we show you how to enjoy the "bling" without spending a thing!
A recent report from Knight Frank and Citi Private Bank has listed the world's top five richest cities – but where there's wealth, there's usually expense. However, airfare deals site Skyscanner shows that even in the priciest of destinations, some of the best things in life are still free.
1. New York
Head to the Big Apple and get some fresh air with a free walking tour of the gardens near Belvedere Castle in Central Park. Gadget lovers should visit the Sony Wonder Technology Lab, a free interactive technology experience, while animal lovers can get closer to nature at the Bronx Zoo, which is free on Wednesdays.
2. London
Budget carrier, Sun Country Airlines will launch cheap airfare deals to London this summer. Combine that deals with the fact that one many of London's capital's museums are free and you have the makings of an unforgettable –and fairly cheap- trip to the UK. Nature lovers will adore the Natural History Museum; the Science Museum is a firm favorite with families while the British Museum shows off some of the world's most interesting artifacts from ancient civilizations and cultures.
3. Paris
Paris is known for being pricey, with a pint of bier costing over $10, but some of the city's most famous landmarks are free. It won't cost anything to enter the magnificent Notre Dame Cathedral; come out smelling of roses at the Fragonard Perfume Museum, housed in a breathtaking Napolean III townhouse, or stroll along the banks of the Seine River and enjoy some of the best sights in capital.
4. Tokyo
Japan has notoriously steep prices, and you'll need all the cash you save on a cheap flight to Tokyo to cover the nearly $250 price tag for a plate of blowfish (fugu) in Tokyo. But visitors can get plenty of Japanese entertainment without spending a single yen. Visit Yoyogi park on a Sunday and watch some of the city's most interesting characters come out to play; from karate kids to leather clad rock-a-billies to teenagers dressed in strange 'cosplay' costumes, Yoyogi is more than enough free entertainment for one day.
5. Los Angeles
While LA is of course home to America's glitz and glamorati, the City of Angels also offers a lot for free. Get no-cost sun, sea and sand at Cabrillo, Venice and Surfrider beaches; visit the star-lined Walk of Fame on Hollywood Boulevard or check out the NoHo Art District where North Hollywood's artsy community offer galleries, public art installations and live theatre.
###