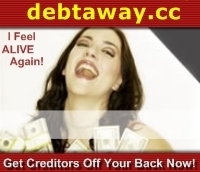 After years of trial and error, we have finally mastered the perfect Debt Relief Formula We call our "Debt Away" Formula, that gets banks running to settle debt ahead of all others, at as much as a 70% or more discount.
Tustin, CA (PRWEB) April 27, 2010
High debt consumers are finally getting debt relief with the new "Debt Away" http://www.debtaway.cc debt relief program from paymentreduction.com. This program uses an exclusive debt relief, debt settlement formula, designed by and available only through paymentreduction.com. This special debt relief, debt settlement formula, automatically calculates just the right combination of (income, cost of living, tax bracket, hardship and more), to get the banks and credit card companies running to reduce credit card debt up to 70% for consumers suffering hardship. This exclusive debt relief formula was developed primarily for cash strapped consumers who have found themselves using credit cards for day to day living expenses, and now find themselves $20,000 or more in unsecured debt.
The founders of paymentreduction.com and developers of the "Debt Away" debt relief formula, are highly successful executives from the banking industry who after years of observing the high credit card interest rate practices of the Banks and Credit card companies have switched sides to give back and help the average consumers find debt relief and financial help in these tough economic times.
"More and more banks are embracing our "Debt Away" program and formula as a way to minimize their losses on high risk debt", saving thousands on discounted collection losses and legal fees". says Client Services Director Todd N. Its really helping struggling consumers who have found themselves over $20,000 in credit card and other unsecured debt such as medical bills, get real debt relief and back on their feet. "Its win-win for both bank and credit card holder" says COO H. Eugene
For more information log on to http://www.paymentreduction.com or http://www.debtaway.cc or call 800-762-1867
###