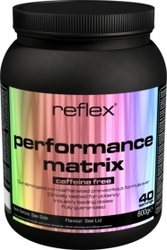 Performance Matrix sets a new bench mark in pre workout supplements
(PRWEB) April 16, 2010
Performance Matrix from Reflex Nutrition, pioneers in whey protein and creatine technology, redefines the products in this category offering a formulation based on scientific rigor and premium quality ingredients. This approach ensures that both the ingredients and the dosages in which they are included have been proven in double blind research to be effective.
The result is a product that contains 7000mg of pure branch chain amino acids per serving which provide optimized protein synthesis and protect muscles from the stress and trauma of heavy exercise. It also contains 5000mg of Creapure creatine monohydrate per serving which provides explosive power and is the only source of creatine to possess a patented manufacturing process which helps to guarantee that the product is free from impurities, a 3,000mg dosage of citrulline malate and 1,800mg dosage of beta-alanine which helps to buffer the buildup of ammonia and buffer acidity changes within the muscle tissue. To ensure that blood flow to the muscle tissue is optimized for nutrient supply and similarly to provide an optimized muscle 'pump' 3000mg of citrulline and 1200mg of vpNOSTM is included. To ensure that the mental focus required for an optimized workout is achieved, 200mg of caffeine and 1000mg of taurine have also been added.
As with all of the products that Reflex formulate, these performance characteristics are balanced with ingredients focused on health considerations. As a result the vpNOSTM polyphenol complex also provides anti oxidant support which is of particular relevance when undertaking strenuous exercise.
With such a formulation and such transparency in the formulation, Performance Matrix really does represent a new kind of product in the category.
The net result of all of this activity is a product that can inspire complete confidence amongst its users. In fact, Reflex Nutrition have so much confidence that the product comes with a full no questions asked money back guarantee which means that if the customer is not fully satisfied for whatever reason, they may return the product for a full refund.
# # #