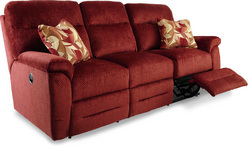 Today's customers are looking for furniture that will fit their unique needs, so we are providing flexible furniture options with the comfort that people expect from La-Z-Boy," said Paula Hoyas, vice president of merchandising for La-Z-Boy. "Our introdu
High Point, NC (PRWEB) April 16, 2010
La-Z-Boy, long known for its comfortable furniture, is taking comfort even further at the April 2010 High Point Furniture Market. The company's new introductions include features and options to give consumers the ability to truly customize their furniture.
"Today's customers are looking for furniture that will fit their unique needs, so we are providing flexible furniture options with the comfort that people expect from La-Z-Boy," said Paula Hoyas, vice president of merchandising for La-Z-Boy. "Our introductions provide choices in style and size, as well as unique shapes and feature options for a customized solution."
Motion Furniture with Power
The La-Z-Boy option of power in the motion category features a mechanism that allows for infinite back and leg positions. This Market, La-Z-Boy introduces two new "powered up" motion sofas, "Pierce" and "Kinley," and adds power to four existing styles. These introductions, combined with the three styles that debuted in October to wide acclaim, create a robust selection for the motion consumer who wants the added convenience of power.
"Power in a motion sofa offers the ultimate user-controlled experience for a myriad of available reclining positions," said Hoyas. "'Pierce' and 'Kinley' feature all the benefits of motion in a contemporary style, while still providing a more stationary look."
Customizable Components
Customers continue to flock to flexible motion modular styles, and this Market's introductions include features such as fold-down tables, push-away corners and rocking loveseats. In addition, the new reclining modular group "Marley" features an armless middle piece as well as left and right sitting sofas that have the corners attached, for an easier shopping and selling experience.
Stationary sectionals also highlight customizability. The new stationary leather style "Rory" features a middle piece that is finished on all sides, so it can be pulled out to stand alone. And the "Laurel" offers a variety of shapes, each with all sides finished to allow the user to change the configuration or use pieces individually.
"Our motion modular and stationary sectional styles give consumers more choice when selecting their furniture configurations and can change with customers' needs, whether they are moving into a new space or simply rearranging a room," said Hoyas.
Size and Style Variety in a New Sleeper
New La-Z-Boy introduction "Spencer" is a versatile piece that can work in traditional or transitional styles and comes in queen, full and twin sizes.
Stylish Accents to Finish a Room
Those looking for stylish accent pieces will find a new variety of eye-pleasing cocktail ottomans. "Lila" and "Jordan" can add a pop of color to complement existing furniture and décor while providing additional seating.
"To many, customizing a room is in the details, and our new cocktail ottomans can help pull a room together," said Hoyas.
All of the latest La-Z-Boy furniture will be on display April 17 through April 22 at the La-Z-Boy showroom located in Space 103 of the Furniture Plaza Building in High Point, N.C. The furniture will be available through La-Z-Boy Furniture Galleries®, La-Z-Boy Comfort Studio® dealers and anywhere genuine La-Z-Boy furniture is sold. Customers can visit http://www.lazboy.com to find the La-Z-Boy retailer nearest them.
About La-Z-Boy
Headquartered in Monroe, Mich., La-Z-Boy is one of the world's leading residential furniture producers. The company manufactures a full line of comfortable products for the living room and family room, including the company's world-famous recliners, reclining sofas and love seats, sleep sofas, modular furniture and leather upholstery, as well as stationary sofas, love seats and chairs. It is a division of La-Z-Boy Incorporated (NYSE: LZB), one of the world's leading residential furniture producers, marketing furniture for every room of the home. Comfort. It's what we do. ®
# # #