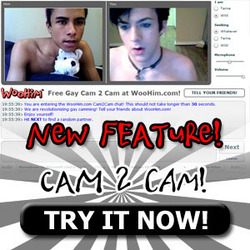 A site as easy as your ex-boyfriend
Miami, FL (PRWEB) April 17, 2010
CockTheVote's cleaner sister site WooHim has launched a mind blowing array of new features. From user activity feeds to gay cam2cam chatting, WooHim brings gay social networking up to--and in many cases beyond--the levels of mainstream social sites.
From the beginning, big money has attempted to maintain a stranglehold on gay networking; keeping it at a pay or dating site level and ignoring the advances of mainstream social sites. Users have been willing to accept this because of these megasites' large populations. This is no more.
Enter CockTheVote two years ago with a mission to break this hold. Now, with membership levels growing rapidly, CtV has launched a more work friendly and more school safe version of the same site: WooHim.com. Both sites share the same content and members but CtV has adult advertisements whereas WooHim is sponsored by more non-adult advertisers.
Gay and bi men can now enjoy the same great features of popular "all inclusive" networks while not worrying that their aunt or mother is a member and may be watching their user feed. Best of all, WooHim keeps CtV's original promise, of always being free!
A quick rundown of popular features:
Fully customizable profiles! Users can express themselves by adding most codes to their profile, changing the colors or graphics, including external RSS or ATOM feed blogs, adding videos or music, and more.
Audio / Video Webcam Chatting! Whether guys want to go one on one in our random cam2cam video chat application or talk to a crowd in our fully featured audio, video, and text chatroom they will have a great time connecting in real time with WooHim's hot users!
Activity Feeds! Users have come to expect detailed lists of what other users are doing. WooHim provides them in an optional activity feed. If they want to be private? No problem! Users can opt out of the feed. They can also link their status updates to Twitter. Many of the site's users update on WooHim which instantly updates their Twitter and Facebook status.
Photo Albums! Users can create an unlimited number of albums. Each photo has options. Members can tag friends in photos, enter the photo for public rating, and even lock the photos if they only want certain friends to be able to see them. Naturally, friends can also comment on other friends photos.
User Forums and Groups! Users can create groups and style the pages for them, invite friends, and mass message group members. WooHim also has a huge user forum where members may talk and share any and everything.
WooHim Free Gay Cam2Cam Social Network
# # #